Attorneys for convicted sex offender Jeffrey Epstein, and currently indicted sex trafficker, touted his close friendship with Bill and Hillary Clinton and even asserted that the billionaire helped co-found Clinton's controversial family foundation. The revelation was made in a 2007 letter intended at improve Epstein's image during his plea negotiations. The exposé was first reported by FoxNews.com in 2016.
The 23-page letter, which was written by attorneys Alan Dershowitz and Gerald Lefcourt, was reportedly a piece of their successful attempt to negotiate a plea bargain for Epstein. The plea deal, to which he admitted soliciting an underage girl for prostitution, came before he could be tried for using underage girls in a Palm Beach, Fla sex ring. The ring was thought to extend to his 72-acre private island estate in the Virgin Islands, notoriously named "Orgy Island." Epstein spent 13 months behind bars and monitored on home detention after agreeing to the plea deal.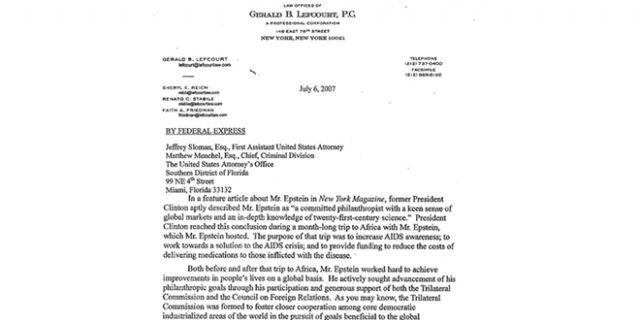 In an excerpt from the letter, the attorney's state:
Mr. Epstein was part of the original group that conceived the Clinton Global Initiative, which is described as a project 'bringing together a community of global leaders to devise and implement innovative solutions to some of the world's most pressing challenges," read the July 2007 letter to the U.S. Attorney's office in the Southern District of Florida. "Focuses of this initiative include poverty, climate change, global health, and religious and ethnic conflicts.
Epstein's role in creating the foundation could not be confirmed and he is not cited in the official paperwork for the Clinton Global Initiative. Neither Epstein's attorney's nor the Clinton Foundation would corroborate the claim. Clinton had publicly credited longtime associate Doug Band, who at one time served as counselor and director of the Clinton Foundation, as having originated the concept. FoxNews.com was able to find evidence that former President Bill Clinton had flown to Epstein's Virgin Islands estate some 26 times. Interestingly, Doug Band is listed on a January 2002 flight manifest to Japan along with Clinton, Epstein and several other people involved in this case.
The foundation has raised hundreds of millions of dollars, for charitable work in places such as Haiti and Africa. But criticism has been offered regarding how much of the foundation's donations actually went to aiding the poor, particularly in Haiti, where conditions are still horrendous after the 2010 earthquake that devastated the country. Critics have accused the Clintons' of using donations to the foundation as a personal slush fund.
Fox reported that Epstein also has supported the Clinton Foundation financially, but that was not made public until two years ago when a whistle-blower released the names of the super-rich, including Epstein, who held Swiss accounts at the HSBC bank. Clinton had described Epstein as a "committed philanthropist with a keen sense of global markets and an in-depth knowledge of 21st century science."
According to Epstein's lawyers former President Clinton had accompanied Epstein on a month-long trip to Africa that was hosted by the billionaire. Actor Kevin Spacey, who has recently been embroiled in his own sex scandal, comedian Chris Tucker, billionaire Ron Burkle, and Clinton confidant Gayle Smith (who served on Barack Obama's National Security Council), socialite Ghislaine Maxwell, Epstein's former assistant Sarah Kellen and Chauntae Davies (whose name emerged in various documents in the investigation into Epstein's sex ring) were also on board for the philanthropic expedition. The trip's mission was supposedly to increase AIDS awareness, work toward a solution to the AIDS epidemic, and to provide funding to reduce the costs of delivering medicines to those afflicted with the disease.
Given recent allegations of child sex trafficking by Epstein, the new court case may reveal even more nefarious reasons for this and other trips by Clinton and Epstein.