A cryptic tweet by President Trump announced that something very big had happened.
News soon spread that he is likely talking about the death of the elusive leader of ISIS, Abu Bakr Al-Baghdadi. A special forces operation in Idlib province was successful in removing the ISIS commander.
A video of the alleged attack was also posted on Twitter.
Fox News is quoting a high level military source as saying:
A "high value ISIS target" believed to be Abu Bakr al-Baghdadi has been killed by U.S.-led forces in Idlib, Syria.
Recent intelligence had suggested that the ISIS leader had been hiding out in the area of Idlib, which was somewhat unusual since the area is known to be a stronghold for Al Qaeda groups that are hostile to Al-Baghdadi.
There have been numerous reports in previous years of the demise of Al-Baghdadi, which where never confirmed. In this case, the identity of the high value target has been confirmed biometrically as Al-Baghdadi.
The President in his announcement at the White House Sunday morning, described the operation stating that no U.S. forces were killed. Numerous of Al-Baghdadi's associates were also killed in the offensive.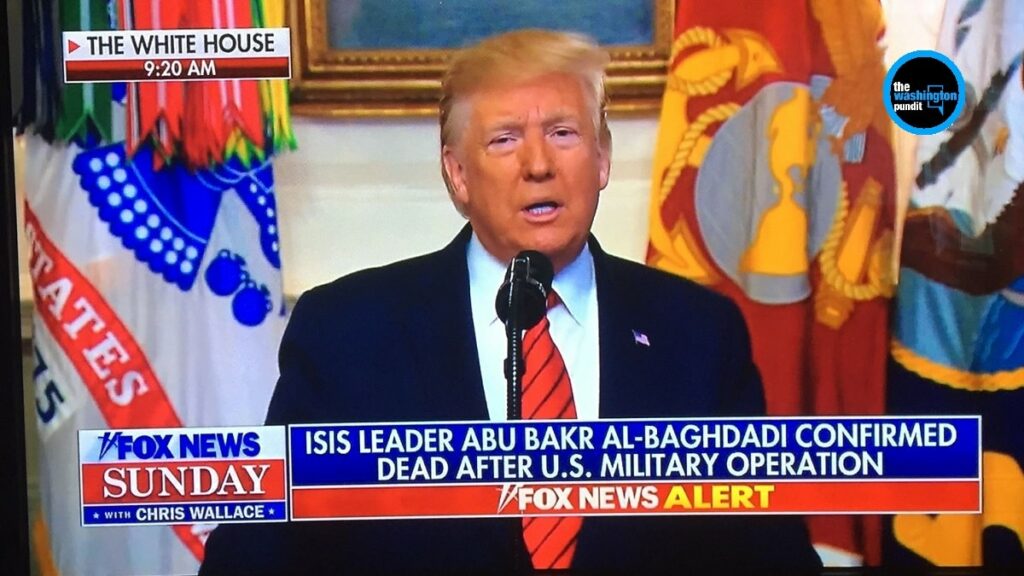 "He died like a dog. He died like a coward."
Al-Baghdadi escaped his compound into a tunnel where he was cornered by U.S. troops. Al-Baghdadi had taken several of his children with him into the tunnel hoping they would protect him from harm. He was wearing an explosive vest, which he detonated, taking his children with him. The tunnel was partially collapsed from the blast.
Intelligence identified his location about two weeks ago according to the President. Trump stated that there was international cooperation from Russia, Iraq, Turkey, Syria and the Kurds, and U.S. troops in the operation.
'We knew he was there and then we got a confirmation. And when we went in, they were greeted with a lot of fire power."
U.S. leaders were able to watch the offensive using technologies that the President would describe fully. In the room were, Mark Esper, several of the Joint Chiefs of staff, numerous Generals, Intelligence officials, POTUS and VPOTUS, among others.