If you've ever been to Seattle you know the much of the city is set up like a community of mini-cities, each with it's own set of supporting businesses like pharmacies, coffees shops restaurants and grocery stores. Since the overtake of the Capitol Hill neighborhood of Seattle, residents have seen numerous businesses close their doors, temporarily, indefinitely, or for good.
The latest casualty is the Capitol Hill location of Trader Joe's, a very popular grocery store franchise which offers produce, meats and cheeses, frozen goods, home essentials like toilet paper and dish soap, and really cheap wine. On Friday evening, the Capitol Hill's Trader Joe's store closed early and posted a printed sign that read:
Today our store closed at 1 PM. The store will be closed indefinitely starting 6/13/2020.
It's unclear why the store shuttered it's doors, since they've provided no public statement. However, employees have reported that the move was in retaliation to a number of employees announcing that they would be joining the protests in support of Black Lives Matter and the CHAZ. The employees claim that they had gotten permission from store managers to attend the protests. But, the corporate offices decided to close up shop because of it. The corporate office has made no official response about the closure.
Trader Joe's tends to be frequented by trendies and social justice types looking for cheaper sources of organic produce and healthier food options. The chain is related 'by birth to Aldi, another popular discount food store that has a broader appeal with low income, elderly and immigrant shoppers.
The exit of this popular store leaves the area without a much needed source of food, much like the Capitol Hill Autonomous Zone, or CHAZ, has experienced since setting up their own entity in the heart of the neighborhood. Food deserts have always been more common in low income areas of the country, where access to healthy food options tends to be limited. It's now a growing concern for residents in more affluent areas of the country as civil unrest leads to destruction of businesses or voluntary closing of their doors to avoid the mayhem.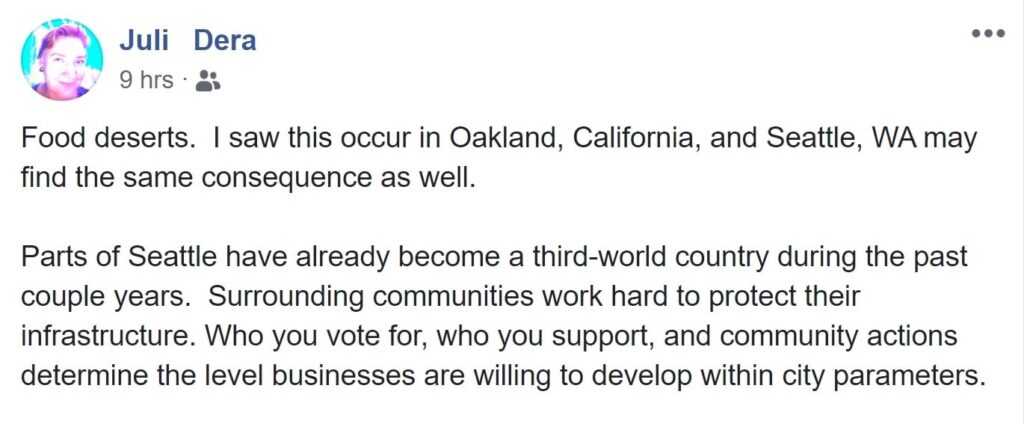 A group of store workers has launched a petition asking the corporate offices to reopen the store. Peter Strand, the employee who led the effort to get the petition out KUOW,
The closure means the loss of community and financial security…We are a tight-knit group, and losing our workplace is losing connection with each other and our neighborhood.
There has been no word from managers or corporate office of the Capitol Hill Trader Joes' as of this writing.