On Sunday a group of CHOP protesters made their way to the home of Seattle Mayor Jenny Durkan, after Durkan sent city workers to dismantle the CHOP encampment. Durkan's address was not widely known since she was part of a protective program due to death threats she received while in her previous role as Attorney General. But that did not stop the CHOP gang from finding her. Seattle City Councilmember Kshama Sawant, a known left- wing activist joined the protester on their visit to the mayor.
Durkan expressed outrage that the group had come to her home, putting her family at risk. The mayors office put out a statement that read:
Seattle has a long tradition of peaceful protest and advocacy for progressive change, and Mayor Durkan strongly supports those rights. Mayor Durkan will continue to listen to leaders in Seattle's Black community.  She is working hard to translate the calls for change into real, tangible systemic changes to policing and all the other systems needed for strong and healthy communities.  She has prioritized these as Mayor, with investments in housing, education, youth opportunity, and economic equity.  She proposes investing an additional $100 million into the Black community.

Mayor Durkan and her family are in the state program to keep their address confidential because of the death threats mostly related to her work as Seattle's U.S. Attorney under President Obama.  Instead of working to make true change, Councilmember Sawant continues to choose political stunts.  Tonight she did so without regard for the safety of the Mayor and her family. The Mayor was not even home – she was working at City Hall.  Seattle can and should peacefully demonstrate but should not put families and children at risk.
It appears that Durkan has had enought as the city is currently working to dismantle the encampment after two failed attempts over the weekend. Seattle crews have started removing the concrete barriers which they had provided to the protesters in exchange for 3 city blocks that were held by the protesters. A heavy police presense is also on scene but is not currently involved in the removal of the barriers.
DeeDee Sun, a reporter with KIRO7 tweeted,
Seattle Police just showed here at #CHOP with SDOT.Multiple pieces of heavy machinery now moving barricades. And crews are working fast.
But protesters quickly regrouped and began setting up alternative barriers. They moved furniture, trash bins, plywood and anything else they could find to replace the concrete barriers that had been removed.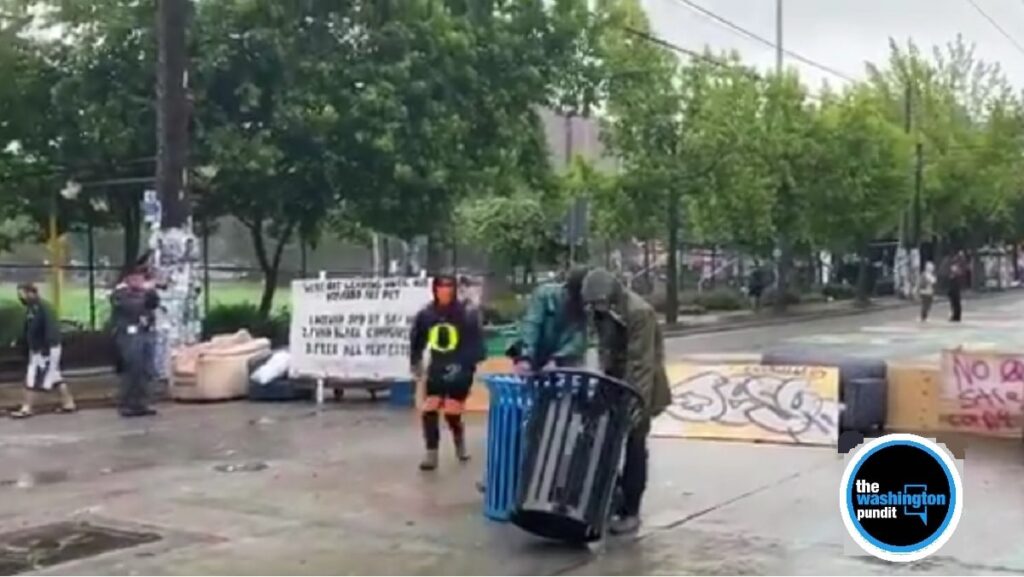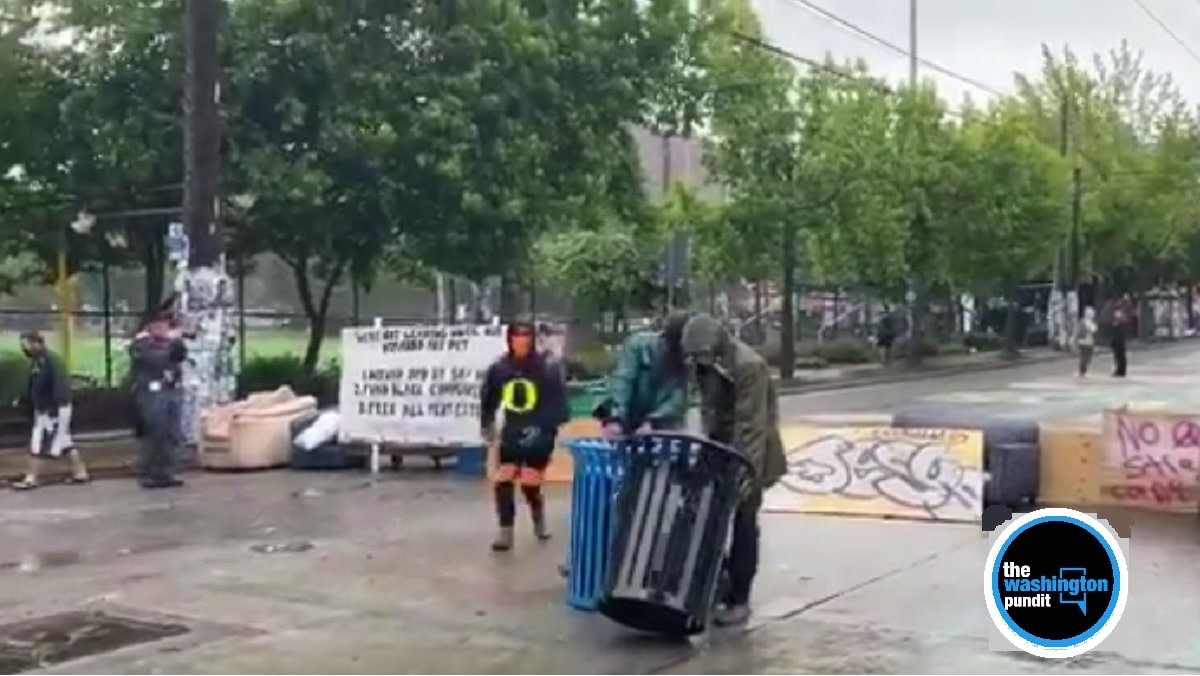 According to Sun,
Protestors moving everything they can from the area to re-block off 10th and E. Pine. #CHOP
The situation is currently ongoing and we will update as new information become available.