The U.S. State Department released a statement announcing a peace deal between Armenia and Azerbaijan, brokered by the Trump administration. The announcement, US-Armenia-Azerbaijan Joint Statement, was made late Sunday by the U.S. State Department, and said:
Armenian Foreign Minister Zohrab Mnatsakanyan and Azerbaijani Foreign Minister Jeyhun Bayramov met with Deputy Secretary of State Stephen E. Biegun on October 24, 2020 and reaffirmed their countries' commitment to implement and abide by the humanitarian ceasefire agreed in Moscow on October 10, which were reaffirmed in the statement issued from Paris on October 17, in accordance with the October 1, 2020 joint statement of United States President Donald J. Trump, French President Emmanuel Macron, and Russian President Vladimir Putin. The humanitarian ceasefire will take effect at 08:00 a.m. local time (12:00 a.m. EDT) on October 26, 2020. The United States facilitated intensive negotiations among the Foreign Ministers and the Minsk Group Co-Chairs to move Armenia and Azerbaijan closer to a peaceful resolution of the Nagorno-Karabakh conflict.
This represents the third negotiated ceasefire since mid-July when hostiles began to escalate, but the first time the Trump State Dept has brokered an agreement and puts a halt on the long-standing conflict between majority Orthodox Christian Armenia (backed by Iran, Russia, and France) and Muslim majority Azerbaijan (backed by Turkey and Israel).
Armenia and Azerbaijan, both former Soviet Republics, have been in conflict over an area known as the Nagorno-Karabakh Autonomous Oblast (NKAO), an energy-rich region roughly the size of Connecticut, since 1923. The two sides erupted into full-scale war during the fall of the Soviet Union in late-1991, when Armenia took advantage of the power vacuum to occupy the long disputed territory. The occupation continued until a ceasefire was finally reached in 1994. The US & United Nations (and subsequently European Union) have repeatedly condemned Armenia's actions called on them to end the occupation.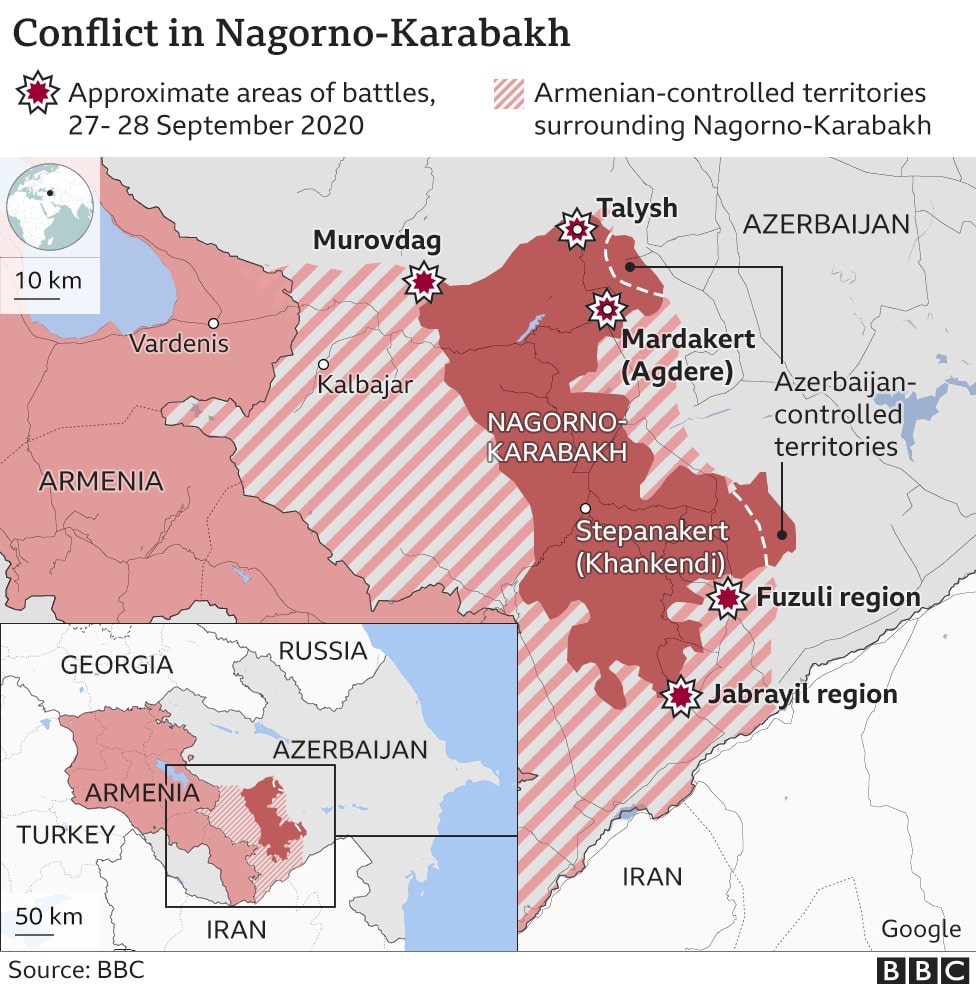 At the time of the fall of the Soviet Empire, Azerbaijan was a poor country without a substantial army or defense industry. But today, with an economy bolstered by oil and gas resources, as well military support from both Turkey and Israel (politics does make for strange bedfellows), Azerbaijan seems to be pushing their current military advantage to end the 30-year Armenian occupation.
With yet another world conflict being brought to heel by the Trump Administration, one would wonder if the Nobel Committee might consider President Trump for a Nobel Peace Prize Lifetime Achievement Award.