Twitter user @KanekoaTheGreat took the initiative to dissect a sworn affidavit from Russell Ramsland, a member of the management team at Allied Security Operations Group. ASOG's website describes the company as,
a group of globally engaged professionals who come from various disciplines to include Department of Defense, Secret Service, Department of Homeland Security, and the Central Intelligence Agency.  Our employees and contractors care about this world and strive to make the international community a better place for all. 

Based on a study done by ASOG during the 2018 elections in Dallas, Texas, ASOG, using publicly available data, identified "significant anomalies and red flags" in Michigan's 2020 election results. The outcome of their investigation has the research team conclude there is a "significant probability that election results have been manipulated."
Ramsland also describes how he created a simple program that anyone could write, which switches votes from one candidate to the other. He stated that the program could be housed on a memory chip that could then be used to hack a voting machine in 7 minutes using only a screwdriver.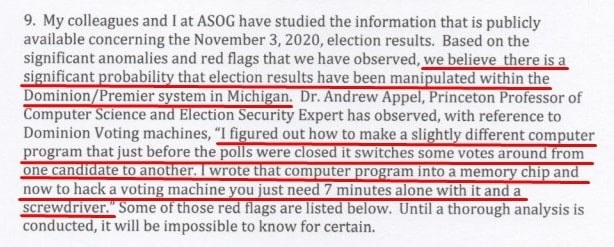 One red flag Ramsland describes resulted in the switching of 6000 Trump votes to Biden in Antium County, an error that was only discovered during a hand recount. Ramslands blamed the error on a software update glitch and said there was no reason to believe it is an isolated incident. The Antium anomoly was accepting provisional ballots properly, but rejecting or flipping in-person ballots which leaned heavily for President Trump.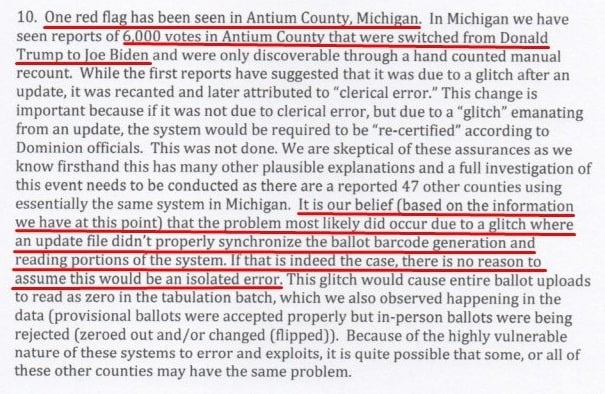 Another significant anomaly Ramsland described was the excessive number of ballots cast and percentages of voter turn-out in numerous Michigan counties.
There are a stunning 3,276 precincts where the Presidential Votes Cast compared to the Estimated Voters based on Reported Statistics ranges from 84% to 350%. Normalizing the Turnout Percentage for this grouping to 80% … reveals 431,954 excess ballots allegedly processed. There at least 19 precincts where the Presidential Votes Cast … exceeded 100%.

This pattern strongly suggests that the additive algorithm [ranked choice voting algorithm] was activated."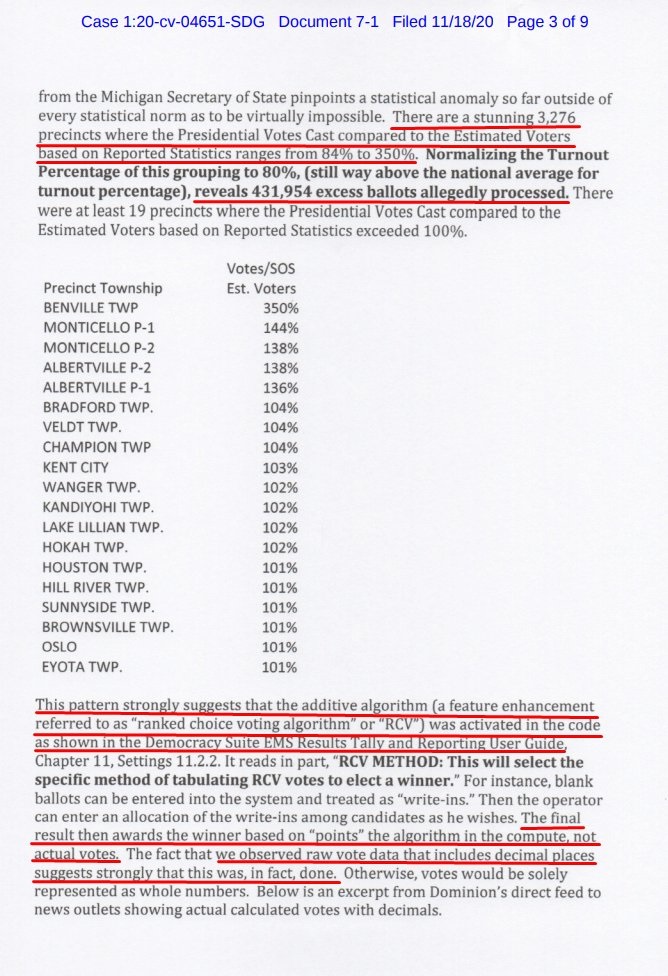 Ramsland goes on to swear to another anomaly that involved a dramatic shift between Trump and Biden as the tabulation of turnout increased. Ramsland explained,
Until the tabulated voter turnout reached approximately 83%, Trump was generally winning between 55% and 60% of every turnout point. Then, after the counting was closed at 2:00 am, the situation dramatically reserved itself, starting with a series of impossible spikes [ cast solely for Biden] shortly after counting was supposed to have stopped.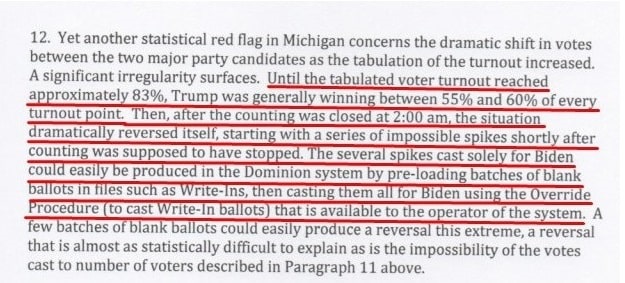 Ramsland described what he thought was the most relevant red flag anomaly which he described as being "statistically impossible." The anomaly he described involved the physical number of ballots that comprised four of the spikes he referenced earlier. The total number of ballots counted was nearly 385,000 and was counted in a little over 2.5 hours. Based on the number of vote counting machines at the locations where the spikes occurred, Ramsland concluded it was statistically impossible for them to process that many ballots in that time frame.
The final red flag is perhaps the greatest. In the data are 4 spikes totaling 384,733 ballots allegedly processed in a combined interval of only 2 hours and 38 minutes. This is physically impossible given the available equipment at the 4 reference locations.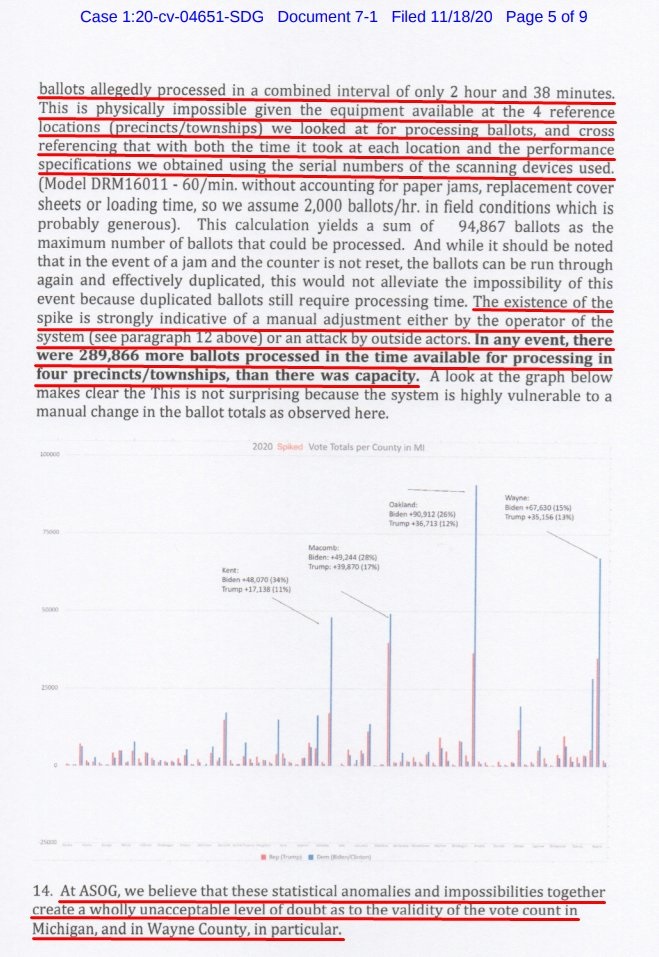 Ramsland points out,
Wayne County uses Dominion Equipment, where 46 out of 47 precincts/townships display a highly unlikely 96%_ as the number of votes cast, using the Secretary of State's number of voters in the precinct/township; and 25 of those 7 precincts/townships show 100% turnout.
Again he notes that this pattern suggests the use of the 'Ranking Choice Voting" algorithm.
This pattern strongly suggests both the additive algorithm (a feature enhancement referred to as "ranking choice voting algorithm" or "RCV") was activated in the code… as well as batch processing of blank votes… where 74,119 more ballots were cast than the capacity.

The additive algorithm as shown in the Democracy Suite EMS Results Tally and Reporting User Guide, Chapter 11, Settings 11.2.2. It reads in part, "RCV METHOD: This will select the specific method of tabulating RCV votes to elect a winner.
Ramsland made an appearance on Newsmax to discuss his findings.
Nothing to see here folks…nothing to see here.