Former V.P. Joe Biden selected the George Soros-funded communist Attorney General of the State of California, Xavier Becerra, for his fictitious cabinet. Becerra replaced Kamala Harris as AG when she was elected to represent California in the US Senate.

Biden's latest addition is a great example of people being handpicked by the far left of the party. Becerra has advocated in the past for 'Health Care For All'. Doubtful Biden even knows who most of these people are.

Tucker Carlson on his Fox show Tucker Carlson Tonight, interviewed David Daleiden, a pro-life activist who knows Becerra all too well. Daleiden heads the Center For Medical Progress and is best known for exposing Planned Parenthood's harvesting and sale of fetal tissue from aborted babies. Using an undercover video style, he caught Planned Parenthood executives admitting to the scheme.
Becerra however, with the help of now-Senator Kamala Harris, helped make Daleiden's discovery even more of a nightmare. Daleiden explained to Carlson,
Xavier Becerra has completely abandoned all fairness and equality under the law for the sake of following the whims of his extremist pro-abortion patrons. 

Your viewers probably remember my undercover video series of Planned Parenthood top-level leadership callously negotiating over the harvesting and sale of aborted baby body parts.  That video series by the way led to Planned Parenthoods business partners in Southern California pleading guilty and being shut down in a plea deal with the Southern California District Attorney. Yet at the behest of Planned Parenthood, Kamala Harris launched a raid on my home to seize the videos for Planned Parenthood. 

Harris launched the first-ever law enforcement case under the California video recording law against an investigative journalist, and Xavier Becerra, as her successor in the Attorney Generals office, continued the persecution, filed 15 bogus felony charges against me and one of my investigative journalist colleagues, all under the California video recording law.

First time in history that undercover video reporting widely practiced in the state of California, praised by previous Attorney Generals for agendas they support … first time in history that it has ever been prosecuted under the California video recording law solely, admittedly, according to the folks in Becerra's Attorney Generals office, solely because of the content of the message that we're putting out … that Planned Parenthood traffics and sells baby parts.
The far-left Democrat Socialists, like AOC and The Squad, are celebrating this extremist political hack's pseudo appointment. The Young Turks, a leftwing communist talk show, said of Beccera:
He's pretty cool. What is promising about him is his record of healthcare, Social Security and his refusal to support 'permanent tax cuts for the wealthy'. He's a big proponent of 'healthcare for all'.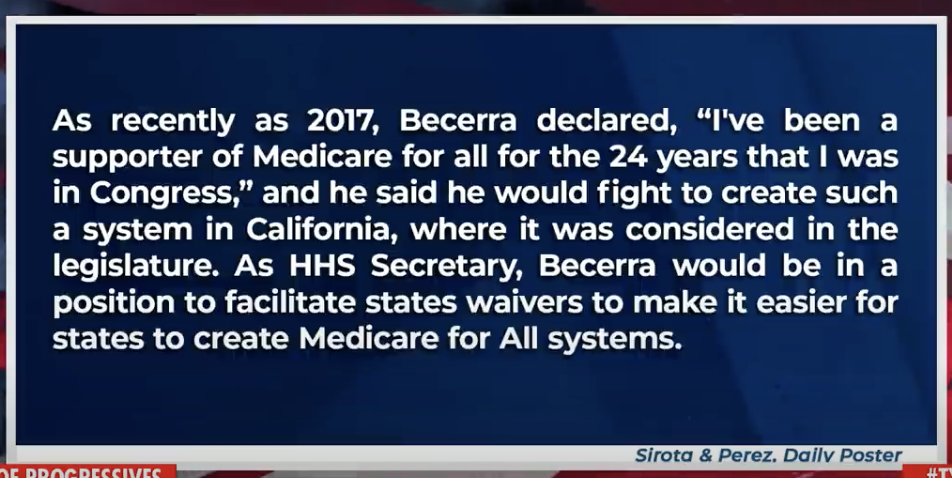 In 2017 Becerra wholeheartedly endorsed a Bernie Sanders' style single-payer model. In his 12 terms as a U.S. Congressman, Becerra sponsored Medicare For All legislation in 2005, 2007, 2009, and 2011.
On Medicare for All, he emphasized,
I've been a supporter of Medicare for All for the 24 years that I was in Congress.

I would fight for that if we had an opportunity to put that forward
In his 12 terms in the U.S. House of Representatives, he co-sponsored Medicare for All legislation in 2005, 2007, 2009, and 2011.