Editor Note: This article is based on a Twitter Thread by Constitutional Attorney Ivan Raiklin and is published with permission. With the bombing in Nashville and two other domestic terror incidents, in Miami, FL and Grapevine, TX, a daily broadcast may be more important than ever.
To: Commander In Chief
From: #WeThePeople
1. Hold daily 9pm EST briefings broadcast under Emergency Alert System authorities 12/19-1/6 & present evidence of attacks by: -China -Russia -Iran Against US Critical Infrastructure to include Federal Election infrastructure by state.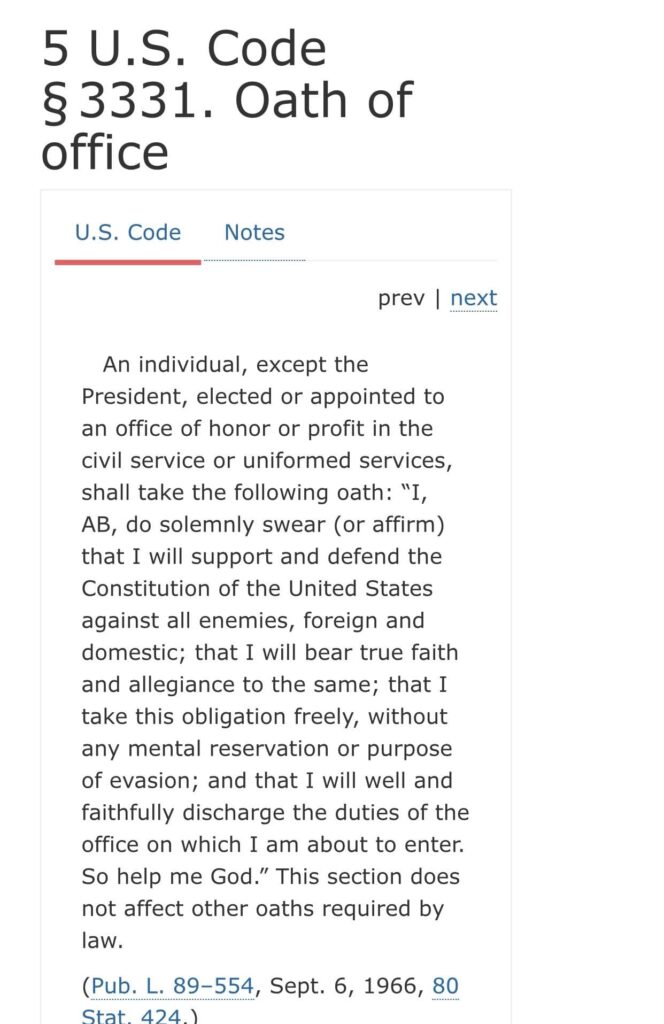 2. Request entire US Senate to host Joint Session of Congress 12/19-1/6 for at a minimum the following committees to investigate all foreign involvement of US persons in the subversion of US Critical infrastructure: Financial Services, Intel, Foreign [Relations], Judiciary, Homeland Security.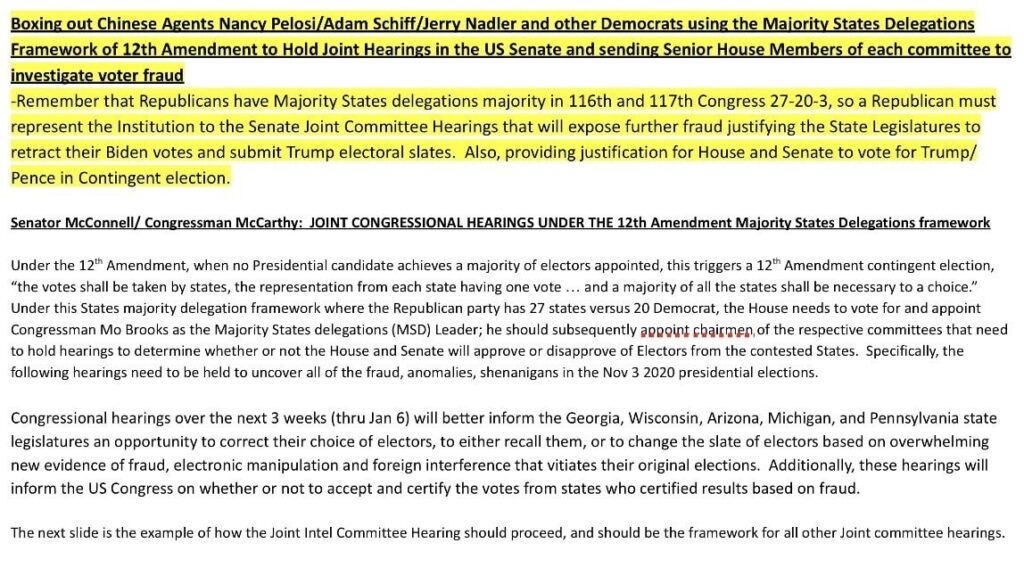 [3.] Finance Committee Witnesses: Treasury Secretary, Head of Office Intelligence & Analysis, Eric Swalwell, Hunter Biden, Joe Biden, Maxine Waters, Dominion CEO, Nancy Pelosi, Kamala Harris & Solar Winds CEO Sudhakar Ramakrishna https://cisa.gov/news/2020/12/13/cisa-issues-emergency-directive-mitigate-compromise-solarwinds-orion-network…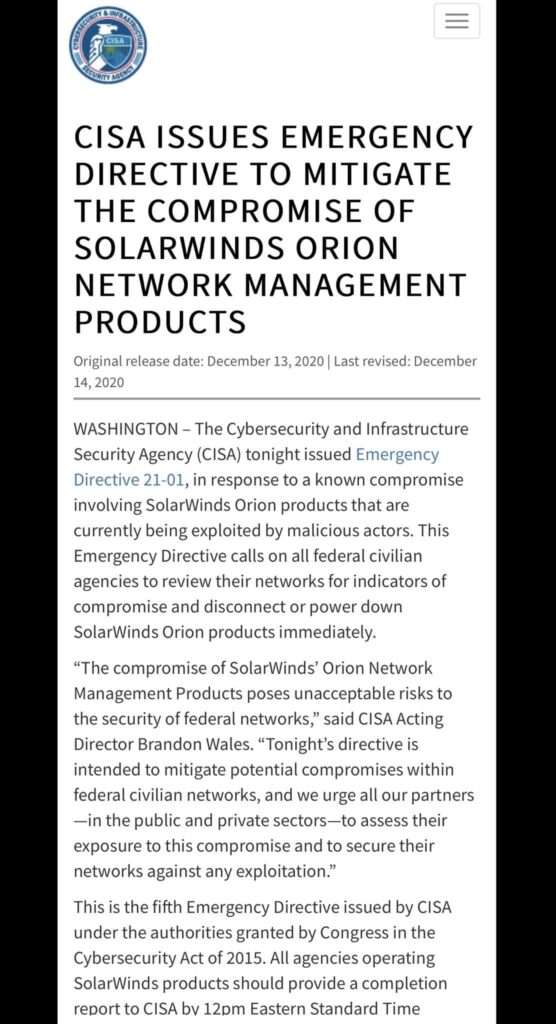 [4.] Intel Committee Witnesses: DNI Ratcliffe, (China/Russia/Iran influence), Chris Krebs former head of CISA, Dominion Executives, GA Gov Kemp, GA Sec State Raffensperger, HPSCI Chairman Adam Schiff, Eric Swalwell, Nancy Pelosi, Ro Khanna; Solar Winds CEO Sudhakar Ramakrishna.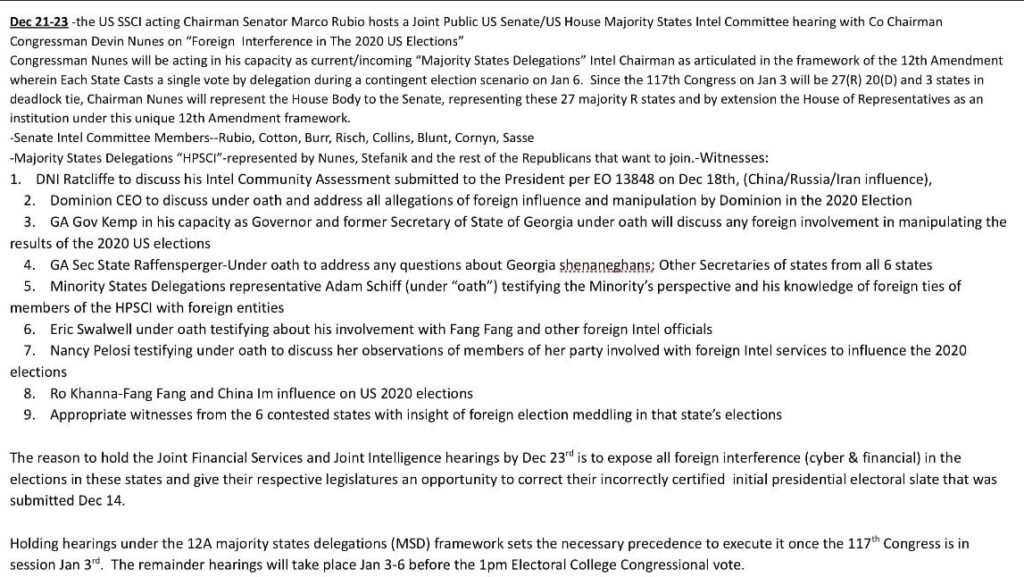 [5.] Foreign Relations Committee Witnesses: Sec Pompeo, US Amb to Beijing, US Amb to Moscow, US senior rep to Iran, John Kerry, Hunter Biden (again)
[6.] Judiciary Committee Witnesses-AG Barr, FBI Dir Wray, Doug Collins (GA); US Attorneys, FBI Special Agents in Charge, Election District Officers from the 8 contested cities discussing all criminal election fraud/public corruption investigations; House Judiciary Chair Jerry Nadler.

[7.] Additionally, House Energy & Commerce Committee members testify-Greg Walden (Chairman) Morgan Griffith, Markwayne Mullin about BIGTECH censorship/election interference -Witnesses-Sundar Pichai, Mark Zuckerberg, Jack Dorsey, Jeff Bezos, Tim Cook; Patrick Bergy/Berne, James O'Keefe.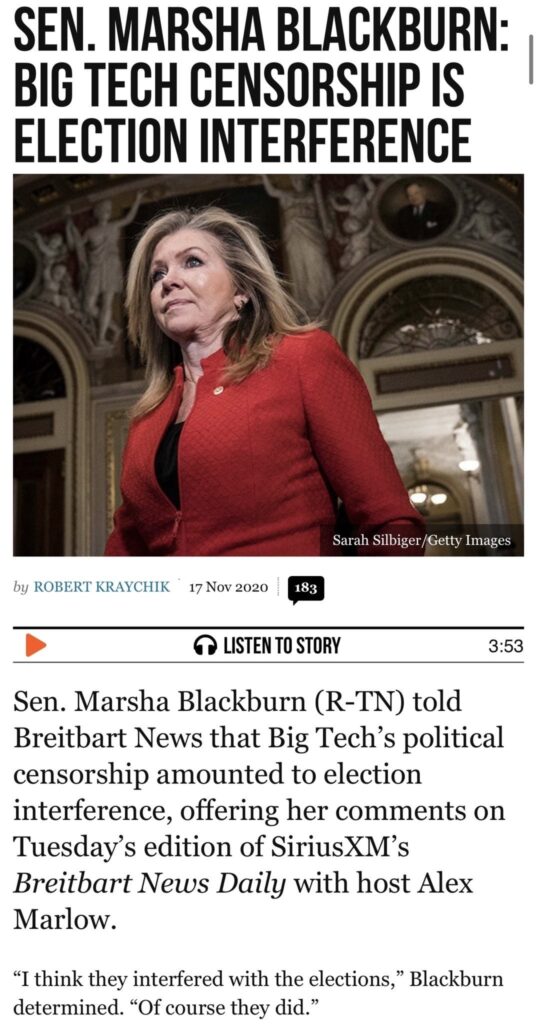 [8.] Homeland Security Committee Witnesses: DHS Sec. Chad Wolf, USPS Postmaster General, USPS IG, 8 contested cities' Postmasters, House Homeland Security Chairman Bennie Thompson; Sunrise Project Organizers-Treason.
[9.] This new information will inform the States Legislatures that the only solution to this Constitutional crisis due to the [cowardice] of the SCOTUS is to recall the fraudulent Dec 14 Biden/Harris slate of electors & replace them with legitimate Trump/Pence slates from GA WI AZ MI PA.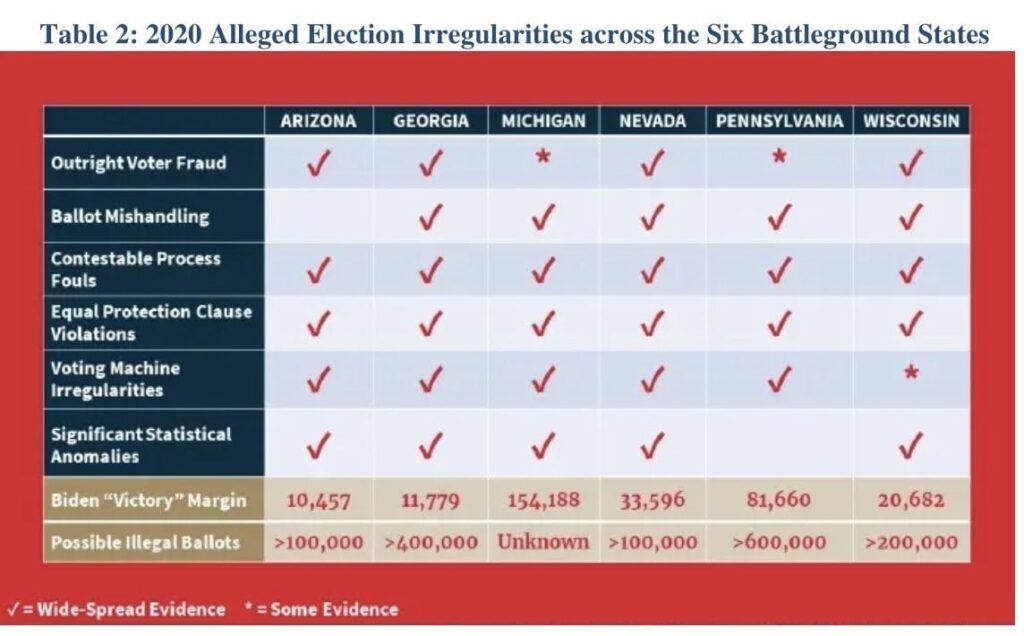 [10.] After all of the above, the States Legislatures, US Congress & the States/Federal Courts will come to realize that #WeThePeople-in the nic of time-were able to expose the most fraudulent, manipulated & corrupted election in our nation's history & in the process save our Republic!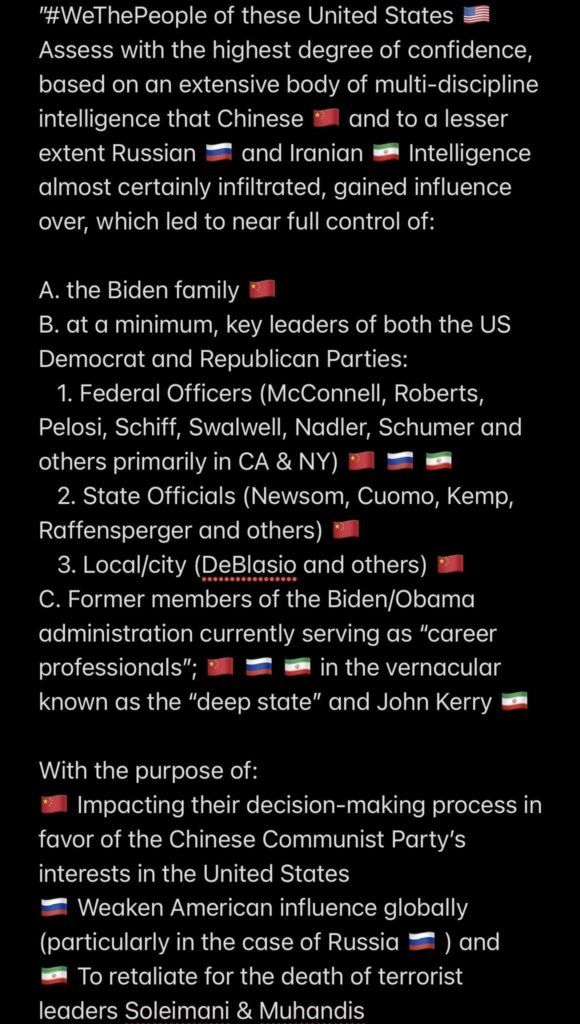 [11.] This assessment is based on an extensive body of HUMINT, SIGINT, OSINT (domestic & international), IMINT, MASINT, FININT, as well as FISA, DOJ, and FBI disclosures dating back to at least Feb 2014 to present.