The Daily Mail recently published never-before-seen photographs of Jeffrey Epstein and others on a trip to Disney World in 2004. The shocking photos show Epstein with several young girls surrounding him, one asleep on his lap. Knowing what we know now about the pedophile and sex trafficker, the photos are quite disturbing.
An anonymous source who was on the trip provided Daily Mail with the photos. According to the source,
It had been a long day and the girl just fell asleep in his arms. The picture is terrifying based upon what we know now but it was entirely innocent.
The source said, Epstein spent lavishly for the trip to the Florida amusement park. A group of ten people was on the all-expenses paid flight, including former girlfriend and suspected accomplice Ghislaine Maxwell, his personal assistant and suspected trafficker Sarah Kellen, and Slovakian model Nadia Marcinkova.
As journalists, we follow numerous people around social media in order to discover interesting news and tidbits that fill in our stories. One of those is advocate and author Kirby Sommers, who is a sex abuse survivor and who regularly discusses insider information about the Jeffrey Epstein and Ghislaine Maxwell cases. I came upon several startling tweets about the newly published photographs on Epstein on the Disney Trip.
According to Sommers, the young girl in the photo asleep in Epstein's lap has been identified as the daughter of Eva and Glenn Dubin. The youngest, who was in his lap was then 9-year-old, Celina Dubin. Maya Dubin was also on the trip.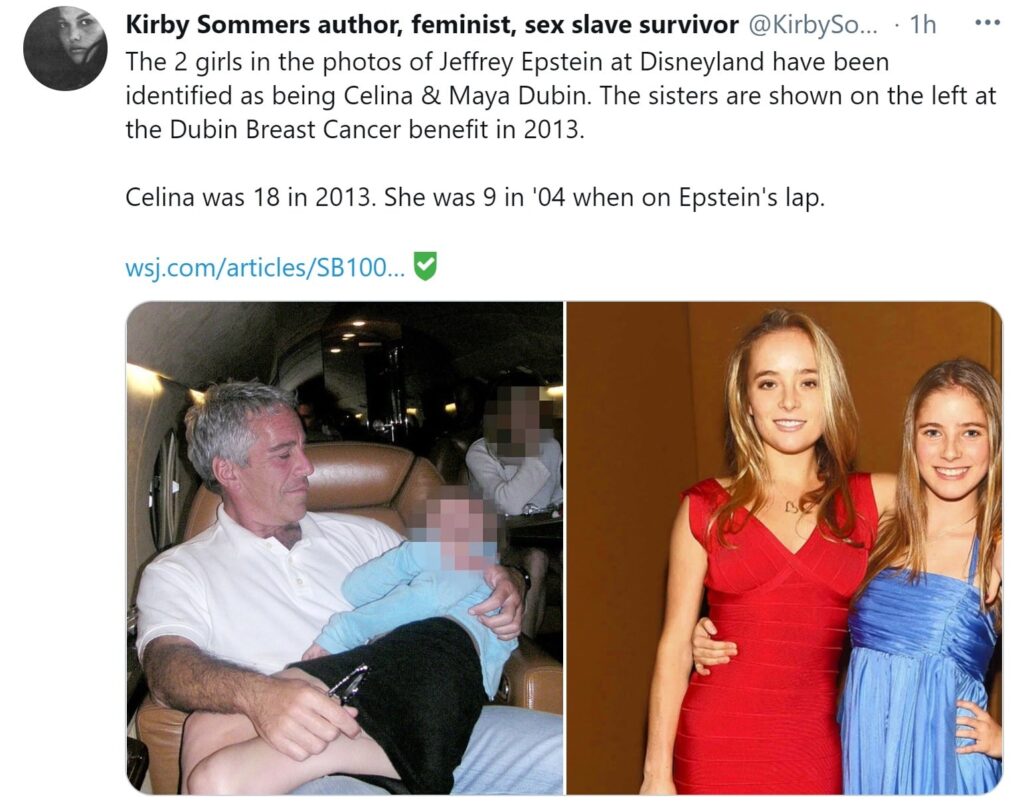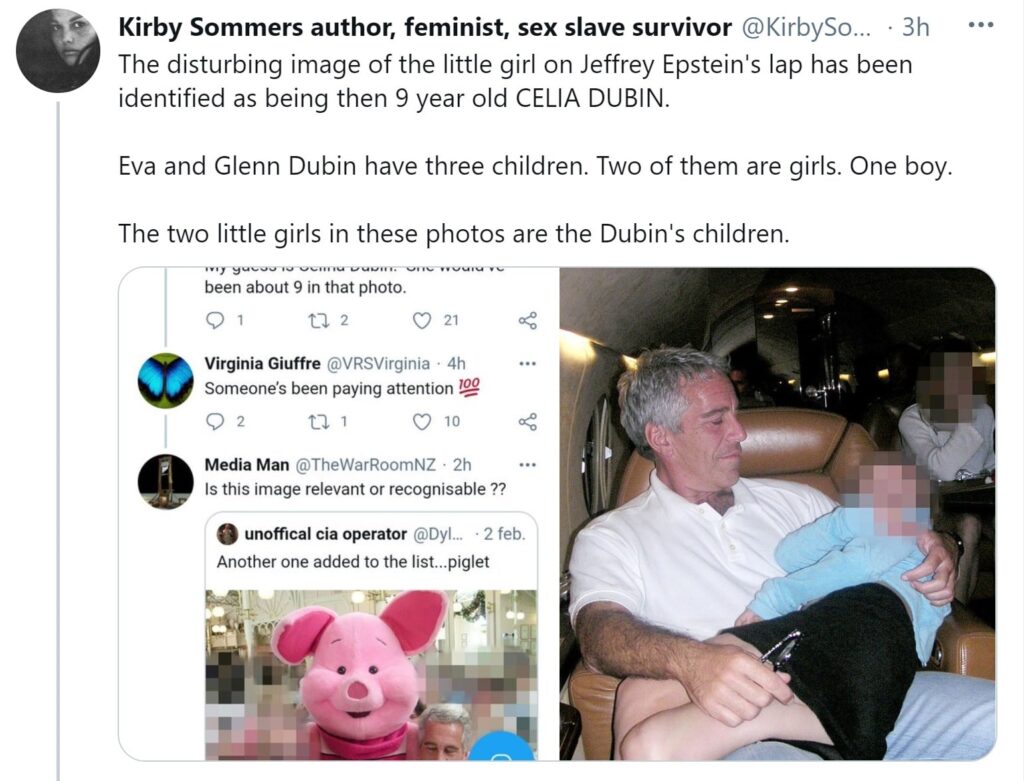 Virginia Giuffre, the most outspoken of all of Epstein's victims appears to confirm that the girl on Jeffrey Epstein's lap is indeed, then 9-year-old Celina Dubin. The eldest child of Glenn and Eva Dubin. The identification is also corroborated by The Steeple Times.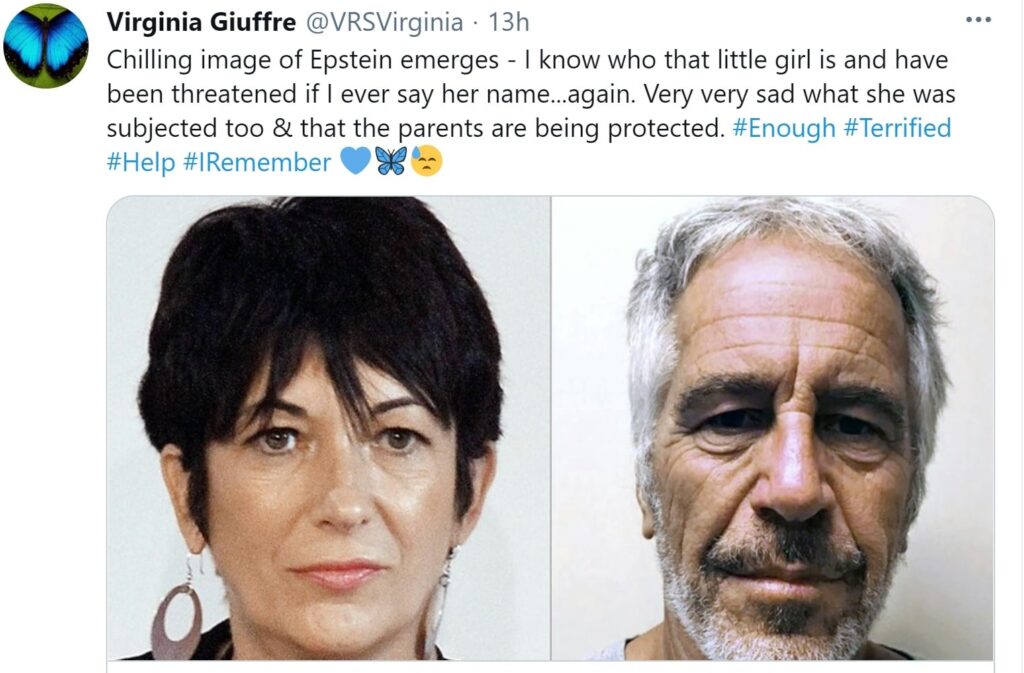 Guiffre accuses Eva and Glenn Dubin of being her "tester couple". The first couple she was sex trafficked to by Epstein. Guifree also states that Eva Dubin was his first Madam.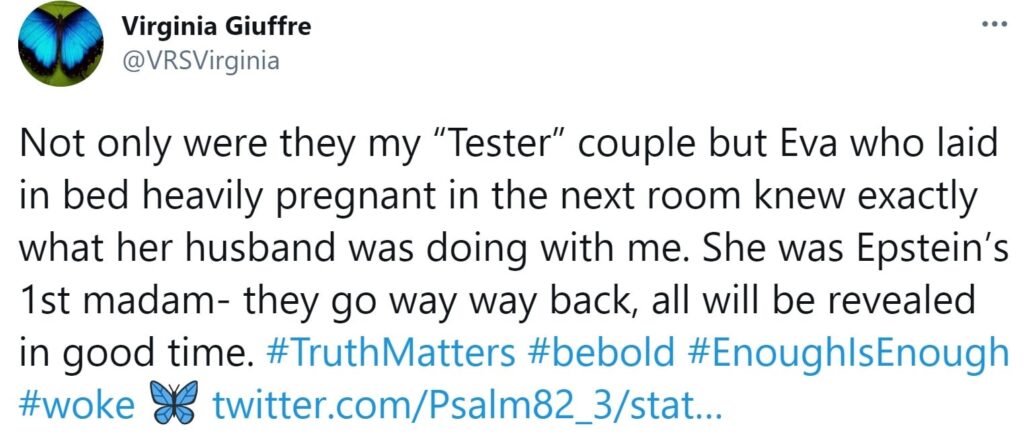 Glenn Dubin is a billionaire hedge fund manager and former principal and founder of a number of private investment companies. Epstein was also reportedly a hedge fund manager.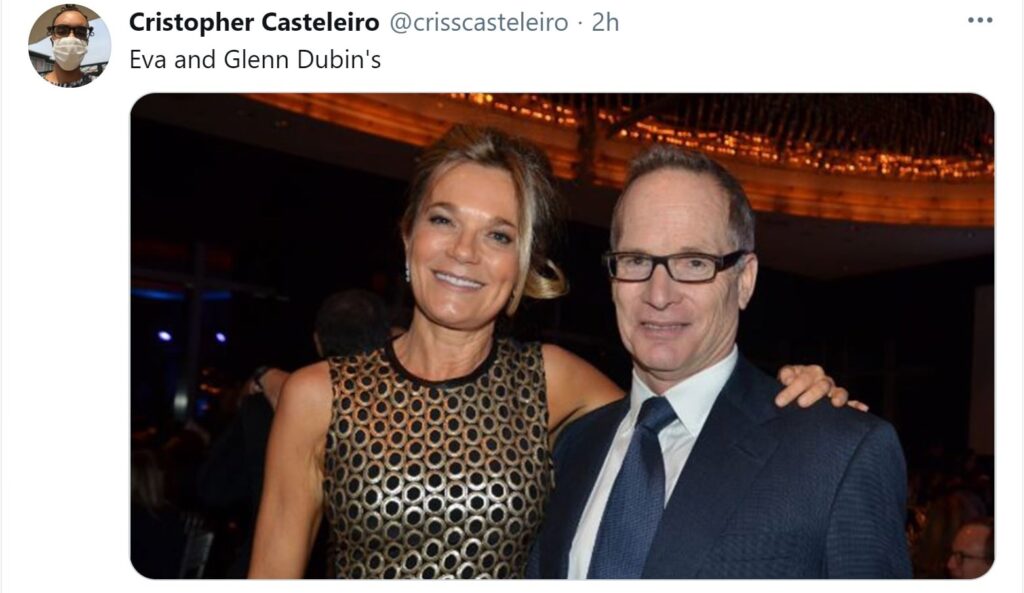 According to this article in Bloomberg, Eva Dubin, a former model who became a physician, previously dated Epstein and continued to socialize with him after his time in jail. Epstein had invested in Glenn Dubin's hedge fund and was also considered a family friend. So the couple would have known exactly who Epstein was and how he made his living.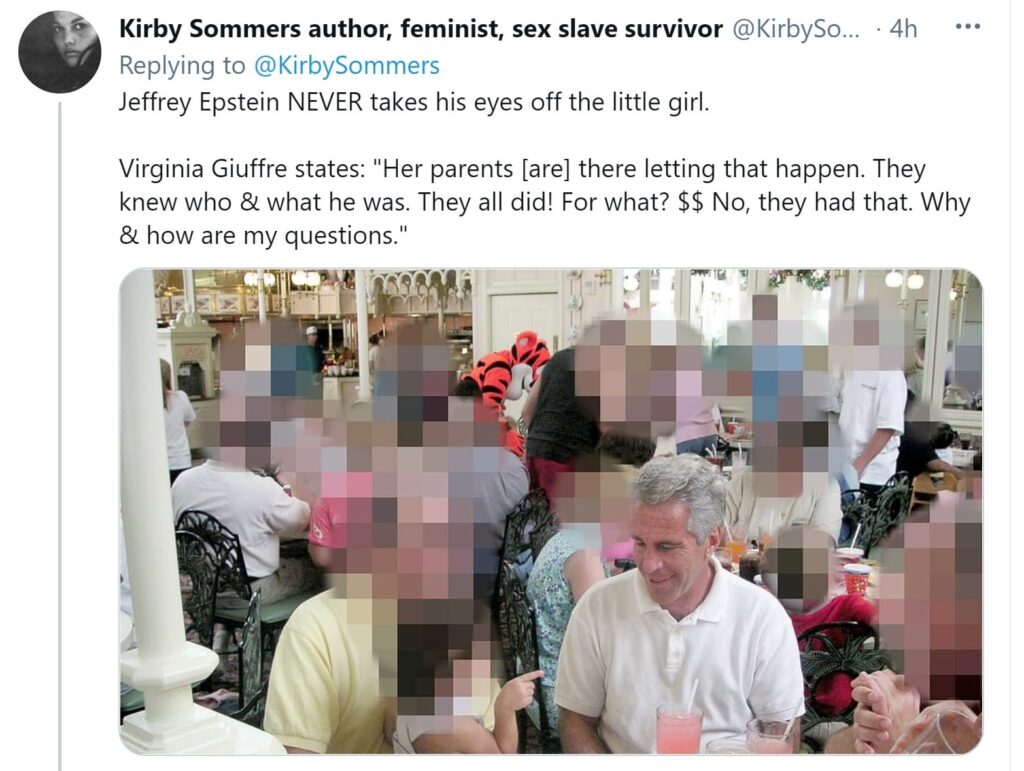 Virginia Giuffre claims that Eva Dubin's medical degree is fake and was purchased for her by Epstein.
The breast cancer center at Mount Sinai Hospital in New York City is named after Eva Dubin, who suffered from breast cancer herself.

After Epstein's arrest in 2008, the Dubin's wrote an email essentially defending him and his interactions with their daughter, Celina, who would have then been 14. The Dubin's apparently even made Epstein their children's Godfather.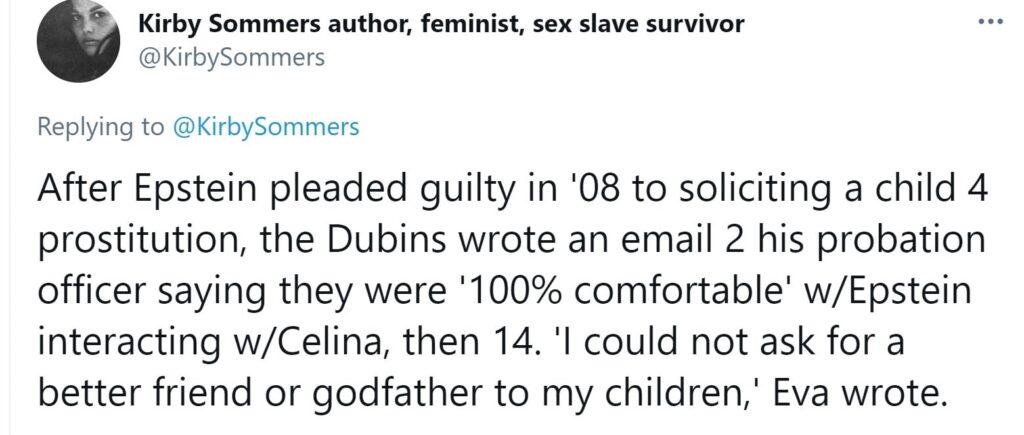 There is also speculation that a photograph of a bare-bottomed young girl, aged 5 or 6, that was given to the FBI by Virginia Guiffre, may be a photo of Celina Dubin.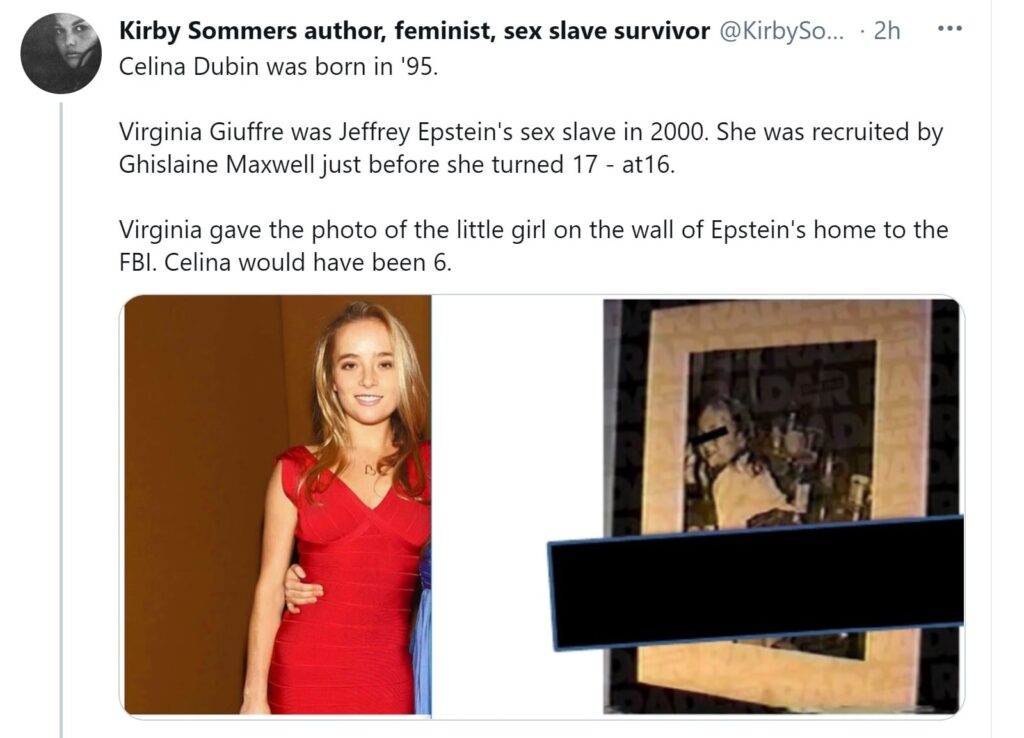 At one point in his bizarre life, Epstein wanted to marry ex-girlfriend/Madam Eva Dubin's daughter. That daughter was Celina, who called him "Uncle Jeff".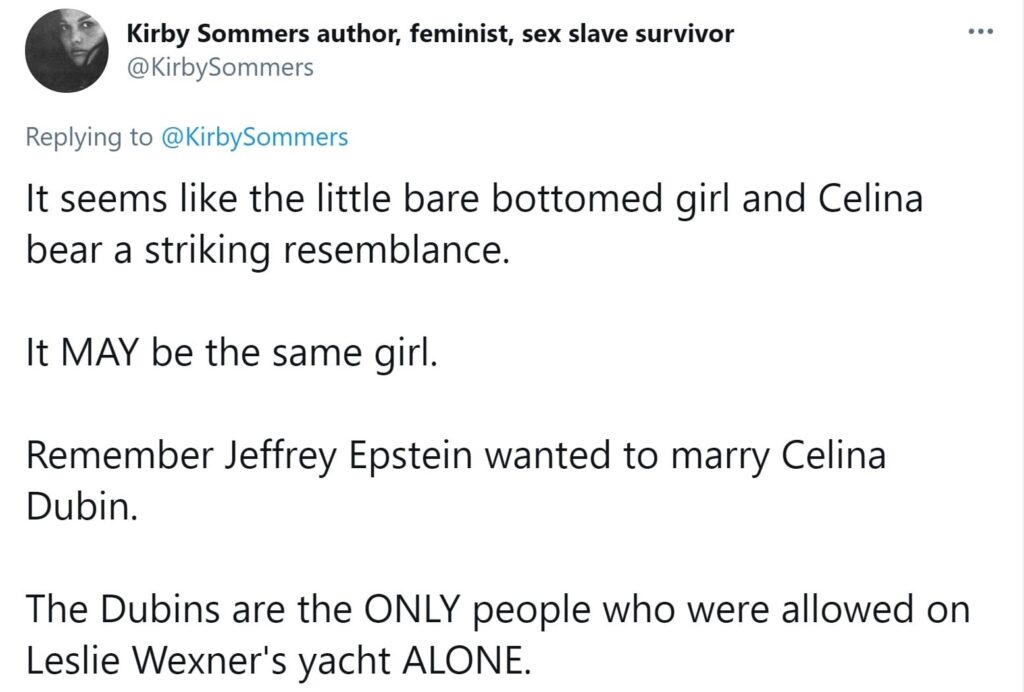 The Dubins were also friendly with Leslie Wexner, the mogul creator of Victoria's Secret, and one of the reported creators of the monster that was Jeffrey Epstein.
This is the crazy world of the rich and famous pedophiles. What a world, what a world.