A mistrial was declared in the murder trial of 48-year-old illegal alien Billy Chemirmir, who was on trial for murdering 24 elderly women across Collin and Dallas Counties in Texas. The jury remained deadlock as one juror refused to convict the man, who is originally from Kenya, despite evidence linking him to at least one of the murders. Chemirmir was known to have overstayed his VISA, and later married an American woman to avoid deportation.
Billy Chemirmir was believed to find elderly victims out shopping or elsewhere in the community and follow them home. He would then break into the victims' residences, where he suffocated them with a pillow and stole their jewelry to sell online. Over the course of two years between April 2016 to 2018, Chemirmir allegedly killed 24 women. He failed to murder two additional women whom he attacked. One was able to testify during the case.
According to the Renegade Tribune, "Dallas County, Texas, prosecutors started the first of two trials against Chemirmir, where they sought a life sentence, detailing evidence that included testimony from 91-year-old Mary Bartel who alleges Chemirmir attempted to murder and rob her as he allegedly did with all of his victims."

Bartel's next-door neighbor Ann Conklin had died just one day earlier. Plano, Texas Police took notice and found a pattern of deaths in the Preston Place Senior Living Complex. Seven women had died within a six-month period, all of them were reported to have had missing jewelry. Diane Delahunty another resident at the complex had her cause of death initially ruled by "natural causes", as were several of the other women's. Not until Chemirmir botched the killing of Mary Bartel did the pattern of deaths at the complex emerge.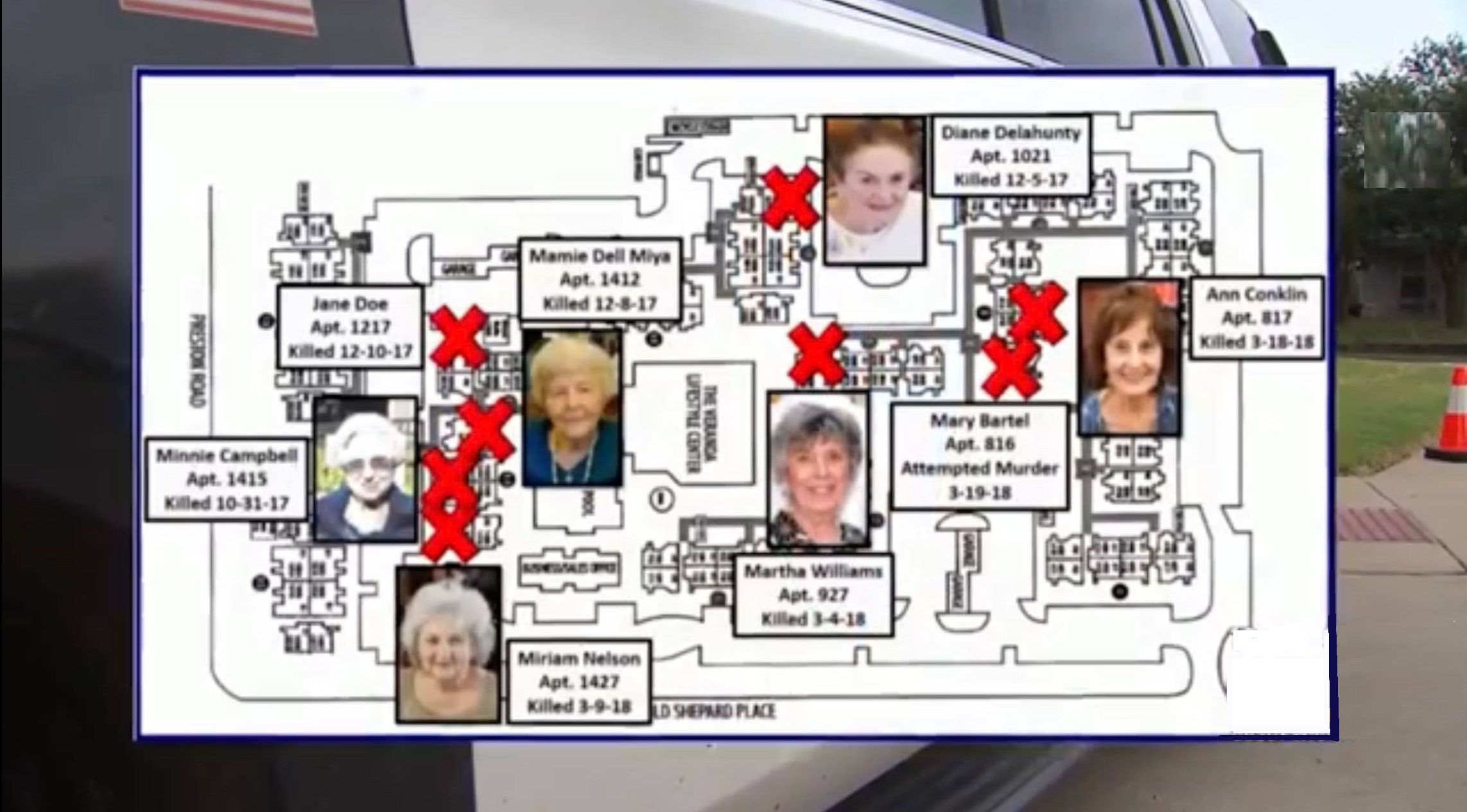 Chemirmir had twice been caught at another Dallas area senior living community where he falsely claimed to be an employee. By the time he was charged with trespassing, he was believed to have already killed three women in the complex, Catherine Sinclair, Phyllis Payne, and Phoebe Perry.
The next string of murders began a month later at yet another senior community, where 8 people were murdered. They included Joyce Abramowitz, Juanita Purdy, Leah Corken, Margaret White, Soloman Spring, Norma French, Glenna Day, and Doris Gleason.
A fourth facility was also hit, but one woman identified a 'well-dressed maintenance worker' asking her if she needed any work done. When she answered no, he knocked her from her walker, and tried to smother her with a pillow to muffle her screams. Several months later, the victim picked Chemirmir out of a police lineup. But the murder rampage continued in a variety of communities and of elderly women living independently in private residences.
In March of 2018, the day Mary Bartel was attacked, investigators began asking questions after the incident. They found one witness who had spoken to Chemirmir in the retirement home parking lot, and had written down his license plate number.  The plate belonged to the car driven by Chemirmir.
The next day, officers were already staking out Chemirmir's apartment. When he arrived at his home, they witnessed him tossing something into a nearby dumpster. Upon retrieving the object, they discovered it was a jewelry box belonging to Lu Thi Harris. They also found the keys to her home inside his car. Upon arriving at her home, they found Harris' lifeless body. The medical examiner determined that she had died only an hour before police arrived on the scene.
So a man murders one woman a month over the course of two years, and he receives a mistrial because one juror refused to convict him. The jury deliberated for two days, to no avail, before State District Court Judge Raquel 'Rocky' Jones declared a mistrial. According to one mainstream news outlet, the hold out juror had  'trouble with the state's circumstantial evidence, which included surveillance video showing Chemirmir in the same store as two of the victims, receipts and testimony showing he was in possession of one victim's jewelry, which had been advertised on an app within minutes of her death, as well as cell phone records showing Chemirmir was in the vicinity of at least three of the victims.
The families of the victims were obviously distraught and unbelieving of the outcome. Several expressed their frustration with the juror, whose identity is unknown, but who is believed to be female.
"She didn't even go back to [look at the evidence]. She had her mind made up before she walked in," a family member told local media.
Chemirmir is set to stand trial in the murder of Lu Thi Harris in March of 2022.