As Oregonians await the District Court's decision to issue a Temporary Restraining Order against the most extreme gun control lawhttps://sos.oregon.gov/admin/Documents/irr/2022/017text.pdf in the United States, Brian Simmonds Marshall, Senior Assistant Attorney General of Oregon, issued a letter two days after the December, 2nd hearing advising the judge, in fact, there is no way the gun permit to purchase (PtP) scheme will be ready on December 8th per the new law.
The letter, partially siding with the plaintiffs in now four legal challenges to Measure 114, came after both the
Executive Director of the Oregon State Sheriffs' Association, Jason Myers, and the Executive Director of
the Oregon Association of Chiefs of Police, Kevin L. Campbell, submitted declarations that an
"operational permit system" will not be in place by December 8th. Thus, the State is agreeing that a
temporary stay should be implemented, halting the December 8th start date for the new law.
Without the TRO all gun sales in Oregon stop on December 8th because there is no way to get a permit
to purchase a firearm.
Assistant AG Simmonds testified on December 2nd when asked by judge, Karin J.
Immergut, if the permitting process would be ready by December 8th that it was his understand the PtP
scheme would be ready for applicants to obtain said permit. This was the only moment during the
hearing where the crowd watching reacted with unified laughter. Seemingly everyone else in the court
room knew the PtP scheme wouldn't be ready by the unrealistic deadline.
What is at stake for Oregonians who oppose 114, Reduction of Gun Violence Act 2022, is their 2nd
amendment "right" will now become a "privilege" according to the newly minted law. The law creates the
points that are at issue. One, a permeant publicly available list of permit holders regardless if one has
used the permit. Two, prohibitions on manufacturing, importing, purchasing, selling, possessing, using, or
transferring ammunition magazines capable of holding more than 10 rounds and make violations a Class
A misdemeanor. Three, a state-issued permit to purchase a firearm. It should be noted that normally an
Oregon ballot measure such as 114 is required to address just a single issue at a time, however, the state
has gotten around that requirement by claiming each issue addresses the "single issue" of gun control
which is what 114 in its entirety is designed to do.
In order to adhere to Measure 114 there will be three distinct processes for many gun owners
in Oregon. First, the new Permitting process. Then, the current background check process when purchasing a firearm.
Finally, if one wanted to obtain a CHL (concealed handgun license) another costly and time consuming process which repeats many of the same steps previously taken. That is three separate processes all
duplicating many of the same requirements, all turning one's inalienable right to bear arms into a state controlled privilege by a state bureaucracy.
It remains to be seen whether legal challenges going forward will prove the law unconstitutional in it's entirety, thus upholding the Second Amendment of the Constitution.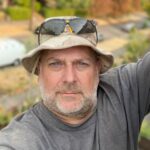 Brian Echerer is a Clackamas County Republican Party precinct committee person and district house captain. He is a lover of the Pacific Northwest and liberty zealot.