As reported by Law360.com, a three-judge panel of the 4th Circuit heard an appeal on Friday of a lower court ruling from US District Judge Anthony J. Trenga brought by the Department of Justice (DOJ). The case involves Lt. Gen. Michael T. Flynn's (Ret.) longtime business partner, Bijan Kian (referred to as Bijan Rafiekian in court filings) of the Flynn Intel Group for violations of the Foreign Agents Registration Act (FARA) for work related to Turkey.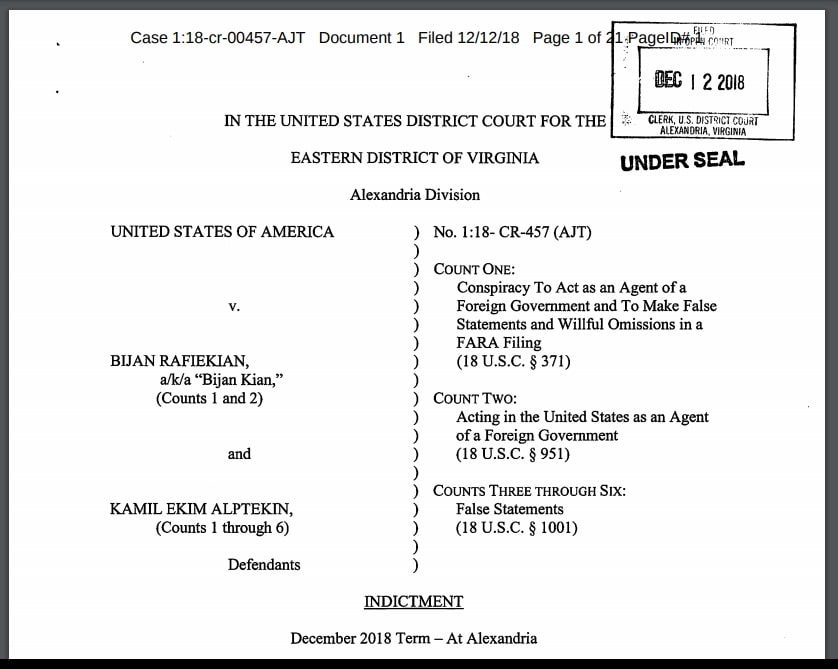 This is the Eastern District of Virginia (EDVA) case that Flynn agreed to testify in as part of his cooperation agreement with the DOJ. He made that deal as part of his arrangement to plead guilty on charges of lying to federal investigators about his Dec. 29, 2016 call with Russian Ambassador Sergey Kislyak. Flynn later withdrew from the cooperation agreement because he refused to lie when pressed to do so by Mueller Special Counsel prosecutors.
The EDVA jury subsequently came to a guilty verdict against Kian in his trial on two felony counts. The 67 year-old Kian was facing up to 15 years in prison. Judge Trenga however made an extraordinary ruling stating,
[T]he Government failed to present substantial evidence for a rational juror to find beyond a reasonable doubt that Rafiekian knowingly participated in a conspiracy.

US District Judge Anthony J. Trenga in his

July 2019 ruling

setting aside the guilty verdicts in Bijan Kian's trial.
Trenga set aside the guilty verdicts against Kian for a variety of reasons. He had openly expressed doubts about the adequacy of the government's evidence throughout the trial and questioned how the jury could have taken only three hours to return guilty verdicts, with so little evidence in such a complex case.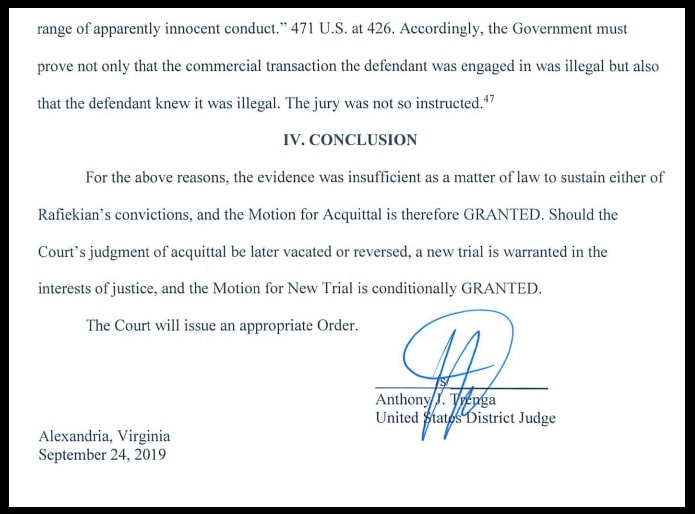 In just as surprising a move (well … not really), the DOJ chose to appeal Trenga's ruling (which to be honest, I didn't even realize was possible) to the 4th Circuit Court of Appeals that was heard on Friday; an action Flynn attorney Sidney Powell blasted as,
[A] wrongful and wasteful use of scarce taxpayer resources.

Sidney Powell as quoted in the June 2020 Politico article "

Feds Press Criminal Case Against Flynn Partner

"
The hearing was held in front of US Circuit Judges Paul V. Niemeyer (a Reagan / George H.W. Bush appointee), Barbara M. Keenan (an Obama appointee), and James A. Wynn Jr. (another Obama appointee) who all sat on the 3 judge panel for the 4th Circuit. Given the rampant political corruption apparent in the federal judiciary, and particularly amongst Democrat-appointed judges, the two Obama appointees will almost assuredly overturn Judge Trenga's decision and remand the case back down to him.
The case is not receiving nearly the fanfare of the Flynn case under US District Judge Emmet G. Sullivan. But when you consider the DOJ figures involved in the the case, such as Brandon Van Grack who somehow inexplicably remains the Chief of the FARA Unit inside the US Dept of Justice, it is apparent Kian and others will continue to be politically targeted. Van Grack originally brought the case against Kian before he was subsequently removed from the Flynn case.
The current US Attorney for the Eastern District of Virginia is G. Zachary Terwilliger. Prior to his appointment in May 2018, Terwilliger served as an Associate Deputy Attorney General and Chief of Staff to Deputy Attorney General Rod Rosenstein during the height of the Spygate scandal and Mueller Investigation.
Terwilliger took over as US Attorney for the EDVA replacing Dana Boente, who himself was forced to resign for his part in the Spygate scandal and role in framing Gen. Flynn.
So given the actors involved, it is doubtful the federal judiciary will grant Kian relief or the DOJ will drop the case willingly. As such, President Trump should immediately issue a full and unconditional pardon to Kian, his co-defendant Ekim Alptekin who has yet to stand trial, and all other individuals such as Roger Stone who are still being persecuted by Mueller Special Counsel prosecutors.
Follow me on Parler & Twitter @BoumtjeBoumtje