On Wednesday, December 2nd, 2020, President Trump filed a lawsuit in the United States District Court, Eastern District of Wisconsin, Milwaukee Division.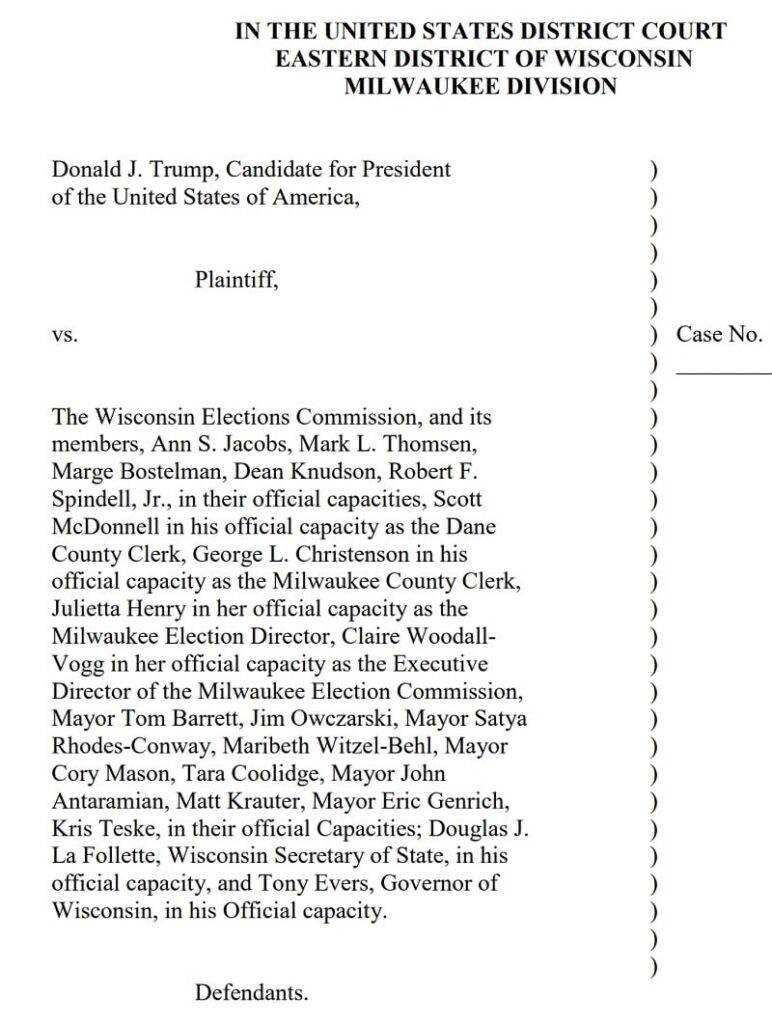 COMPLAINT FOR EXPEDITED DECLARATORY AND INJUNCTIVE RELIEF PURSUANT TO ARTICLE II OF THE UNITED STATES CONSTITUTION
The 72-page document names 21 state executives, officials of the Wisconsin Election Commission, Dane County Clerks, city mayors and city election officials of Milwaukee, Madison, Racine, Kenosha and Green Bay as defendants.
This action arises under 42 U.S.C. § 1983 and Art. I, § 4, cl. 2, Art. II, § 1, cl. 4 and the First and Fourteenth Amendments of the United States Constitution.
The filing argues that the November 3, 2020, Wisconsin election involved multiple acts that required legal authority but were performed without that authority. The suit lists out five violations of the Wisconsin Election Code, much of which centered around the legality of the mail-in ballot process which ultimately supplanted the role of the state legislature to create election law.
At the heart of each violation of the Wisconsin Election Code described in this Complaint was the purposeful disregard of thoughtful legislative safeguards meant to prevent absentee ballot fraud and to promote uniform treatment of absentee ballots throughout the State, including by:

A) Ignoring or compromising state law limits on the availability of mail-in balloting for those reasonably able to cast a ballot in-person

B) Proliferating unmanned mail-in ballot drop boxes 

C) Processing and counting vast numbers of mail-in ballots outside the visibility of poll watchers

D) Reducing or eliminating mandatory voter information certifications for mail-in ballots

E) Permitting "ballot tampering"

These practices usurped the Wisconsin Legislature's exclusive authority to direct the election for Presidential electors in Wisconsin and also violated equal protection and due process standards, significantly undercutting the predictable and uniform application of the law, while serially undermining the Wisconsin Election Code.

It is the policy of the State of Wisconsin that "voting by absentee ballot is ['in contrast' to the constitutional right of in-person voting] a privilege exercised wholly outside the traditional safeguards of the polling place. The legislature finds that the privilege of voting by absentee ballot must be carefully regulated to prevent the potential for fraud or abuse." Wis. Stat. § 6.84(1).
An egregious usurpation of election law was allowed that caused hundreds of thousands of voters to break the Staes ID election law. The lawsuit further alleges that,
On or about, March 25, 2020, the Clerk of Dane County, Scott McDonell, publicly advised Dane County voters and others throughout the State to declare themselves "indefinitely confined" under Wis. Stat. § 6.86(2) in order to avoid having to provide proof that they are eligible voters.
McDonell issued the following statement on his Facebook page:
I have informed Dane County Municipal Clerks that during this emergency and based on the Governors Stay at Home order I am declaring all Dane County voters may indicate as needed that they are indefinitely confined due to illness. This declaration will make it easier for Dane County voters to participate in this election by mail in these difficult times. I urge all voters who request a ballot and have trouble presenting [a] valid ID to indicate that they are indefinitely confined.

People are reluctant to check the box that says they are indefinitely confined but this is a pandemic …The process works like this:

• A voter visits myvote.wi.gov to request a ballot.

• A voter can select a box that reads "I certify that I am indefinitely confined due to age illness, infirmity or disability and request ballots be sent to me for every election until I am no longer confined or fail to return a ballot.["]

• The voter is then able to skip the step of uploading an ID in order to receive a ballot for the April 7 election. Voters are confined due to the COVID-19 illness. When the Stay at Home order by the Governor is lifted, the voter can change their designation back by contacting their clerk or updating their information in myvote.wi.gov. Voters who are able to provide a copy of their ID should do so and not indicate that they are indefinitely confined.
The state officials decided to use the 'Covid-19 Pandemic' as yet another excuse to rule by decree. In fact, after the Primary Election, the Wisconsin Legislature clearly stated that the COVID-19 pandemic did not change mandatory provisions of Wisconsin election law which still could and should be applied uniformly during the pandemic.
Whatever excuses may be given for the conduct of election officials before the primary election, by the time of the November 3, 2020 General Election there could be no reasonable or lawful contention that the COVID-19 pandemic provided an excuse to avoid Wisconsin's election laws. Carson, 978 F.3d at 1060.

By failing to abide by its statutory obligation to engage in the proper application of Wisconsin's absentee ballot provisions and Wisconsin's voter identification law, the Wisconsin Elections Commission and Defendant County and Municipal Clerks and other public officials, ensured an unequal and inconsistent application of the law and permitted thousands of ballots to be accepted based on the improper and inaccurate claim that the COVID-19 pandemic continued to justify a wide scale failure to apply Wisconsin voting laws.