Along with minor changes to the debate format and the decision to cut microphones should the candidates prolong their responses, there have been major changes to the topics to be discussed at the October 22 debate this Thursday. While the focus of the upcoming debate was expected to be foreign policy, the Commission on Presidential Debates and moderator, Kristen Welker, have released their list of topics, few of which cover said topic.
The topics that will be covered instead include:
Fighting COVID-19
American Families
Race in America
Climate Change
National Security
Leadership
The Trump campaign responded in a scathing letter to the commission asking that the topics be revised to more appropriately reflect the foreign policy topic previously agreed upon, citing few of the announced topics touch on the subject and that many of the topics to be addressed have already been covered in the first debate between Trump and Biden.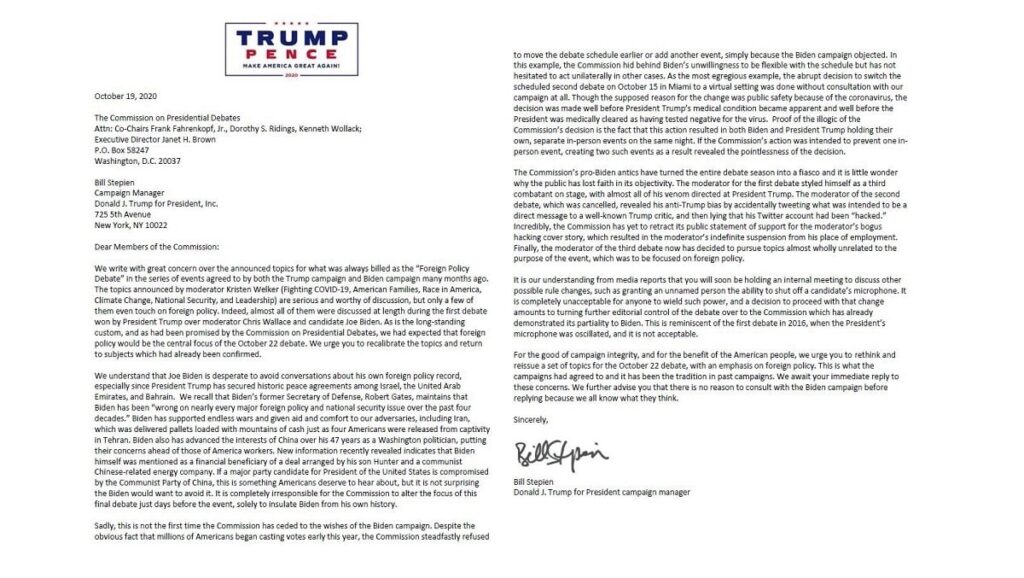 The Trump administration quickly objected to the changes when campaign manager Bill Stepien wrote an excoriating letter to the Commission, in which he raised several objections to the topics announced by NBC News correspondent Kristen Welker, who will moderate Thursday's debate.
Stepien noted that the commission should abide by the "long-standing custom" of making foreign policy the central topic of Thursday's debate, as had already been agreed upon by all parties involved.
Stepien accused the Commission of protecting Joe Biden from scrutiny over the recently discovered laptop belonging to his son, Hunter, and the implications that the Biden family were involved in corruption, pay to play and quid pro quo schemes in Ukraine, China, Kazakhstan among other foreign nations.
The Commission's pro-Biden antics have turned the entire debate season into a fiasco and it is little wonder why the public has lost faith in its objectivity,
Stepien stated in his letter.
Trump's campaign has often pointed out that the Commission on Presidential Debates, which self-describes as nonpartisan, is working to help Biden during the debates.
Stepien also accused VP Joe Biden of being "desperate to avoid conversations about his own foreign policy record" and said that the commission was altering the topics covered in the final debate to "insulate Biden from his own history."
The Biden campaign has responded only by saying that all parties had agreed to allow the moderator of the debate choose the topics to be discussed. Welker is a known democrat with close ties to the Obama's, having spent at least one Christmas dining with them former President and first lady in their private residence.