The Washington Pundit is doing a series of articles highlighting the names of individuals currently facing unjust criminal indictment by the US Dept of Justice (DOJ) and in need of a full and unconditional pardon from President Donald J. Trump.
We began by highlighting the case of Ari Teman, a tech entrepreneur who is the victim of prosecutorial misconduct at the hands of the corrupt Southern District of New York (SDNY) federal prosecutors.
In this article, TWP will highlight the case of Lt. Gen. Michael T. Flynn's (Ret.) longtime business partner, Bijan Kian who despite Flynn's full and unconditional pardon is still facing unjust prosecution in the Eastern District of Virginia (EDVA).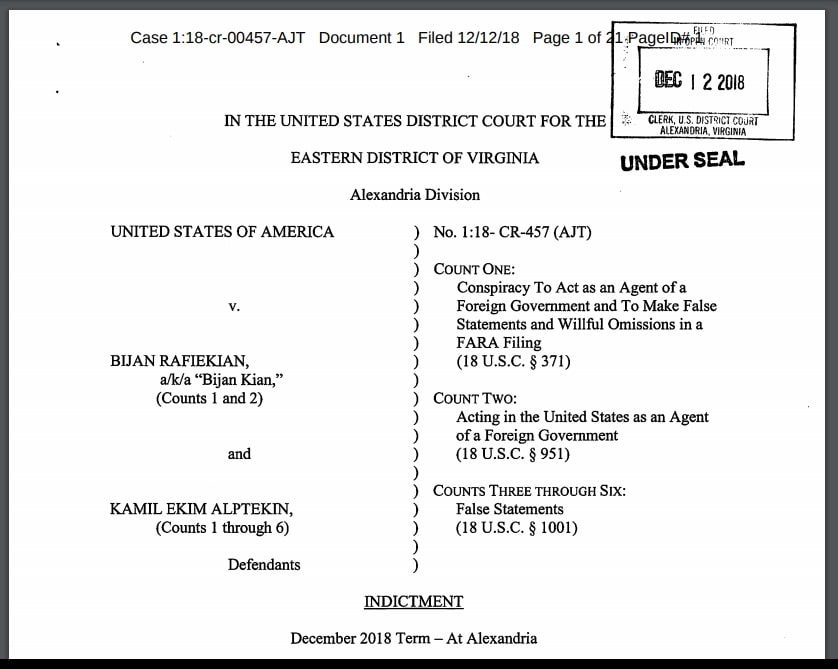 Bijan Kian (referred to as Bijan Rafiekian in court filings) and Flynn Intel Group customer K. Ekim Alptekin (a longtime close friend of Kian) are the two men Flynn agreed to testify against as part of his cooperation agreement with the DOJ. The EDVA case centers around a commercial contract entered into by the Flynn Intel Group and Alptekin's Dutch company INOVO BV for work related to Turkey. Corrupt Mueller Special Counsel prosecutors then twisted and manufactured bogus violations of the Foreign Agents Registration Act (FARA) to selectively target their political opponents as previously reported by TWP.
Kian has been unable to speak out about his case because he is still gagged on the legal advice of his attorneys, just as Flynn was when his case was still pending in front of Judge Emmet Sullivan. However, his co-defendant Alptekin has begun speaking out about the details of their case over the course of the last year, against legal advice.
Alptekin and Kian had a close existing friendship dating back to Kian's time on the Board of Directors of the US Exim Bank, a Senate confirmed position he was appointed to by both Presidents George W. Bush and Barack Obama. The Kian and Alptekin families have even spent Christmas together in the past. Here Alptekin describes his friendship with Kian before and outside the commercial contract with the Flynn Intel Group.
Bijan Kian is an Iranian-American businessman who was born and educated in Tehran but fled to the United States in the wake of the 1978 Iran Islamic Revolution. He has remained a staunch opponent of the Mullah regime that has controlled his homeland ever since.
This is probably why General Flynn and Bijan Kian became such close professional and business associates. During his time at the Exim Bank, Kian would have been privy to certain classified projects. Considering Kian was the highest-level appointed Iranian-American in the Bush and Obama administrations, he likely had interactions with Flynn during his time as Obama's Director of the Defense Intelligence Agency (DIA) or prior to that appointment, when Flynn was a top Intel officer during the Iraq and Afghanistan conflicts.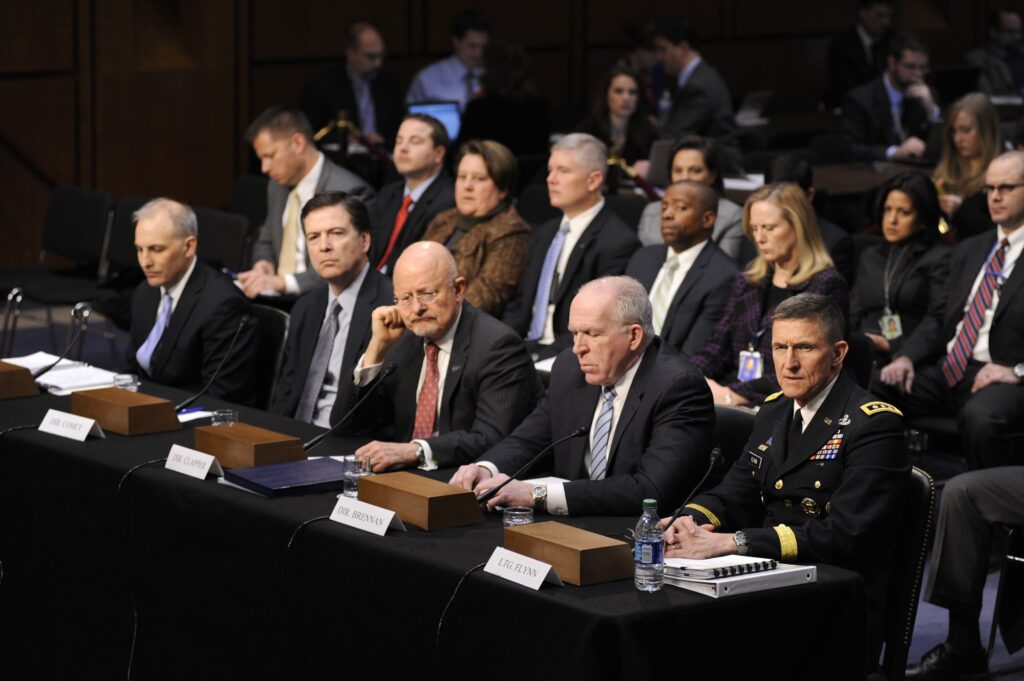 Gen. Flynn has a well-known reputation of being a fierce critic of the Iranian Mullah regime and was fired in part from his position as DIA by President Obama because of the strong public opposition to the Iranian Nuclear Deal (eg. The Joint Comprehensive Plan of Action or "JCPOA"). Flynn and Kian's ideologies towards engagement with Iran were closely aligned and Flynn probably found him to be an invaluable resource. In addition to going into business with Kian as partners in the Flynn Intel Group, Flynn recommended Kian for a position during the transition period between the 2016 us presidential election and Trump's January 2017 inauguration as part of the landing team for the Office of the Director of National Intelligence (ODNI), Kian would have helped to vet officials to work in the Trump administration's national security team.
After Kian was tried for his work for the Flynn Intel Group, the EDVA jury came to a guilty verdict against him on two felony counts. The 67-year-old Kian found himself facing up to 15 years in prison. The trial judge in his case, US District Judge Anthony J. Trenga however made an extraordinary ruling stating,
[T]he Government failed to present substantial evidence for a rational juror to find beyond a reasonable doubt that Rafiekian knowingly participated in a conspiracy.

US District Judge Anthony J. Trenga in his

July 2019 ruling

setting aside the guilty verdicts in Bijan Kian's trial.
Trenga set aside the guilty verdicts against Kian for a variety of reasons. He had openly expressed doubts about the adequacy of the government's evidence throughout the trial and questioned how the jury could have taken only three hours to return guilty verdicts, with so little evidence in such a complex case.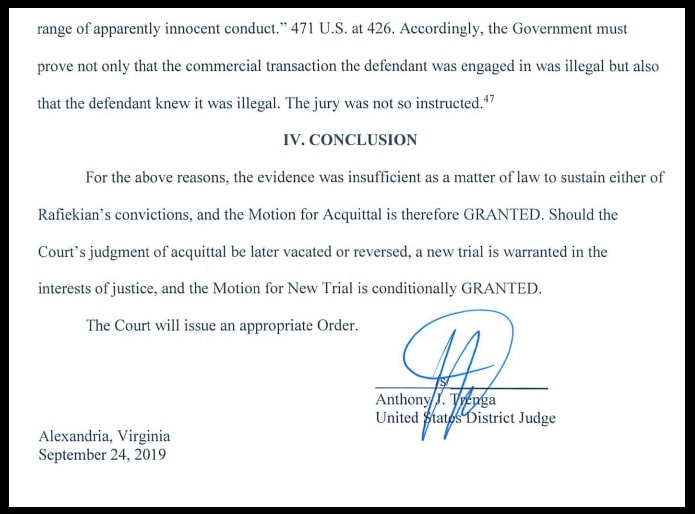 In just as surprising a move (well … not really), the DOJ chose to appeal Trenga's ruling (which to be honest, I didn't even realize was possible) to the 4th Circuit Court of Appeals that was heard on Friday; an action Flynn attorney Sidney Powell blasted as,
[A] wrongful and wasteful use of scarce taxpayer resources.

Sidney Powell as quoted in the June 2020 Politico article "

Feds Press Criminal Case Against Flynn Partner

"
The appellate hearing was held in front of US Circuit Judges Paul V. Niemeyer (a Reagan / George H.W. Bush appointee), Barbara M. Keenan (an Obama appointee), and James A. Wynn Jr. (another Obama appointee) who all sat on the three-judge panel for the 4th Circuit. Given the rampant political corruption apparent in the federal judiciary, and particularly amongst Democrat-appointed judges, the two Obama appointees will almost assuredly overturn Judge Trenga's decision and remand the case back down to him.
It is doubtful the federal judiciary will grant Kian relief or the DOJ will drop the case willingly. As such, President Trump should immediately issue a full and unconditional pardon to Kian, his co-defendant Ekim Alptekin who has yet to stand trial, and all other individuals who are still being persecuted by Mueller Special Counsel prosecutors.
Please go here to sign the White House petition to grant Bijan Kian a full and unconditional pardon.
Follow me on Parler & Twitter @BoumtjeBoumtje