Breitbart reported that democrat attorney Marc Elias celebrated the 'victory' that alters mail-in ballot rules in North Carolina via Twitter.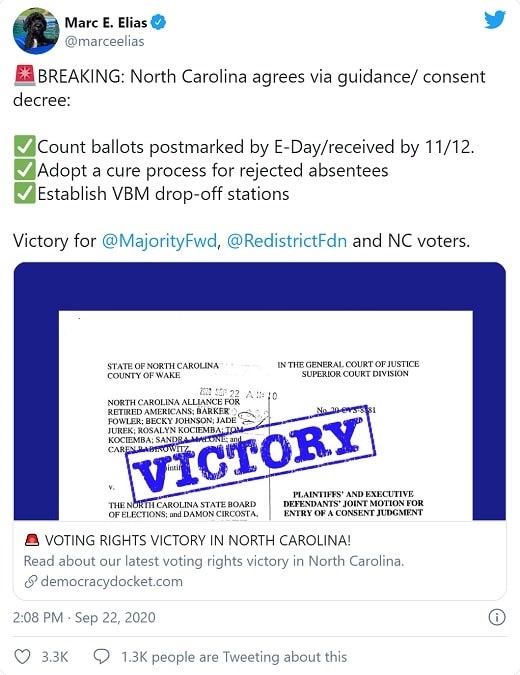 According to Breitbart,
Elias was recently described by the New Republic as the man who is trying to stop President Donald Trump from "rigging" the election.

However, Elias was also responsible for hiring Fusion GPS to produce the bogus "Russia dossier" on then-candidate Trump, leading to efforts by the law enforcement and intelligence services to spy on the Trump campaign.
Elias' law firm, Perkins Coie, retained Fusion GPS in April 2016 for the Clinton campaign and the DNC. Fusion GPS hired Christopher Steele, who authored the now debunked Steele Dossier, which lead to the Russia collusion investigation into the Trump campaign.
Elias has now helped the democrats alter mail-in ballot rules in the swing state of North Carolina. North Carolina is a key swing state which narrowly voted for Donald Trump in 2016.
Elias assisted a coalition of Democrat-centric special interest groups settle a lawsuit with the state of North Carolina which gives democrats a win on mail-in voting. The settlement allows for ballots to be counted up to nine days after Election Day, gives voters the opportunity to fix problems with submitted ballots, and creates ballot drop-off stations at early voting sites.
According to the consent decree:
Ballots postmarked by Election Day shall be counted if otherwise eligible and received up to nine days after Election Day,
implements a procedure to cure certain deficiencies with absentee ballots, including missing voter, witness, or assistant signatures and addresses,
instructs county boards to designate separate absentee ballot drop-off stations at all one-stop early voting locations and county board offices, through which voters and authorized persons may return absentee ballots in person.
Ballots with 'curable' deficiencies will be counted if received by the county board of elections by no later than 5 p.m. on Thursday, November 12, 2020.
Curable deficiencies include:
no voter signature,
misplaced voter signature,
no witness or assistant name,
no witness or assistant address,
no witness or assistant signature,
and misplaced witness or assistant signature.
The consent decree also makes legal a process known as "ballot harvesting", where by a third party can return someone's ballot for them. The decree makes the process legal and only requires person collecting the ballot to provide an address and phone number when they return the ballot.
The consent decree is binding on North Carolina's board of elections and its chairperson, Damon Circosta, who was appointed by Democrat Governor Roy Cooper. Cooper is up for reelection this November.