Dr. E contributed reporting to this story
(Editor Note: This is Part 1 of an exclusive TWP exposé series on the coordinated media disinformation campaign to incorporate Turkey into the existing Trump-Russia and Ukraine conspiracy theories as first reported by TWP on Oct. 13th 2020)
If you want to watch a coordinated media disinformation campaign playing out in real-time (just like the Trump-Russian Collision Hoax), then you're in luck because there's one playing out right now.
As The Washington Pundit (TWP) exclusively reported October 13, 2020,
… expect to see multiple independent stories related to Turkey which will all be tied together by a massive "bombshell" piece in the New York Times that will drop in late October near election day in a well-coordinated smear campaign.
Well the article dropped just as predicted on Thursday, October 29th, almost 4 years to the day from the original "bombshell" drop in the Trump-Russia Collusion narrative.
The current disinformation campaign related to Turkey is following the exact same playbook as the 2016 Trump-Russia Collision Hoax with some of the exact same players being involved in this latest attempt to tie the President and his associates to wrong-doing.
Let's take a look back at how the media began its disinformation campaign on what we now know to be Hillary Clinton's made up Trump-Russia Collusion story. In 2016, there were three separate stories related to Russia and it's connection to President Donald Trump published on Oct 31st.
Article #1, from Soros-funded Mother Jones by David Corn, falsely alleging that former Trump campaign aid Carter Page (a graduate of the US Naval Academy) was secretly a Russian operative working for Vladimir Putin to cultivate Donald Trump. We now know that Page was not a Russian spy and in fact was a CIA asset.
Article #2 from The Financial Times about a naturalized American citizen named Sergei Millian and his connection to Russia and various Trump Tower projects.
Article #3 from Slate by Franklin Foer about Alfa Bank and how the Trump Campaign was secretly communicating with the Russians through a secret server in Trump Tower. We are now fairly certain we know where the idea of a secret server came from.
The New York Times (in coordination with the other publications, FBI, and Fusion GPS) was supposed to tie it all together. Instead, they published this article stating that the investigation was dropped because the FBI found no links to Russia. The FBI panicked at the last moment and attempted to bail out of the hoax.
Unfortunately, it appears this coordinated conspiracy has extended past the media and into the Department of Justice (DOJ) that has seen a series of highly political prosecutions and non-prosecutions (along with other highly questionable events) in the Southern District of New York (SDNY) which we will detail later in this series.
We will also focus specifically on debunking the NY Times Oct. 29th story in future articles, but it needs to be noted at the onset. You can't even get halfway through first page without realizing how laughable the premise of this new conspiracy truly is. The article states,
Halkbank, a state-owned Turkish bank suspected of violating U.S. sanctions law by funneling billions of dollars of gold and cash to Iran … believed the scheme had helped finance Iran's nuclear weapons program.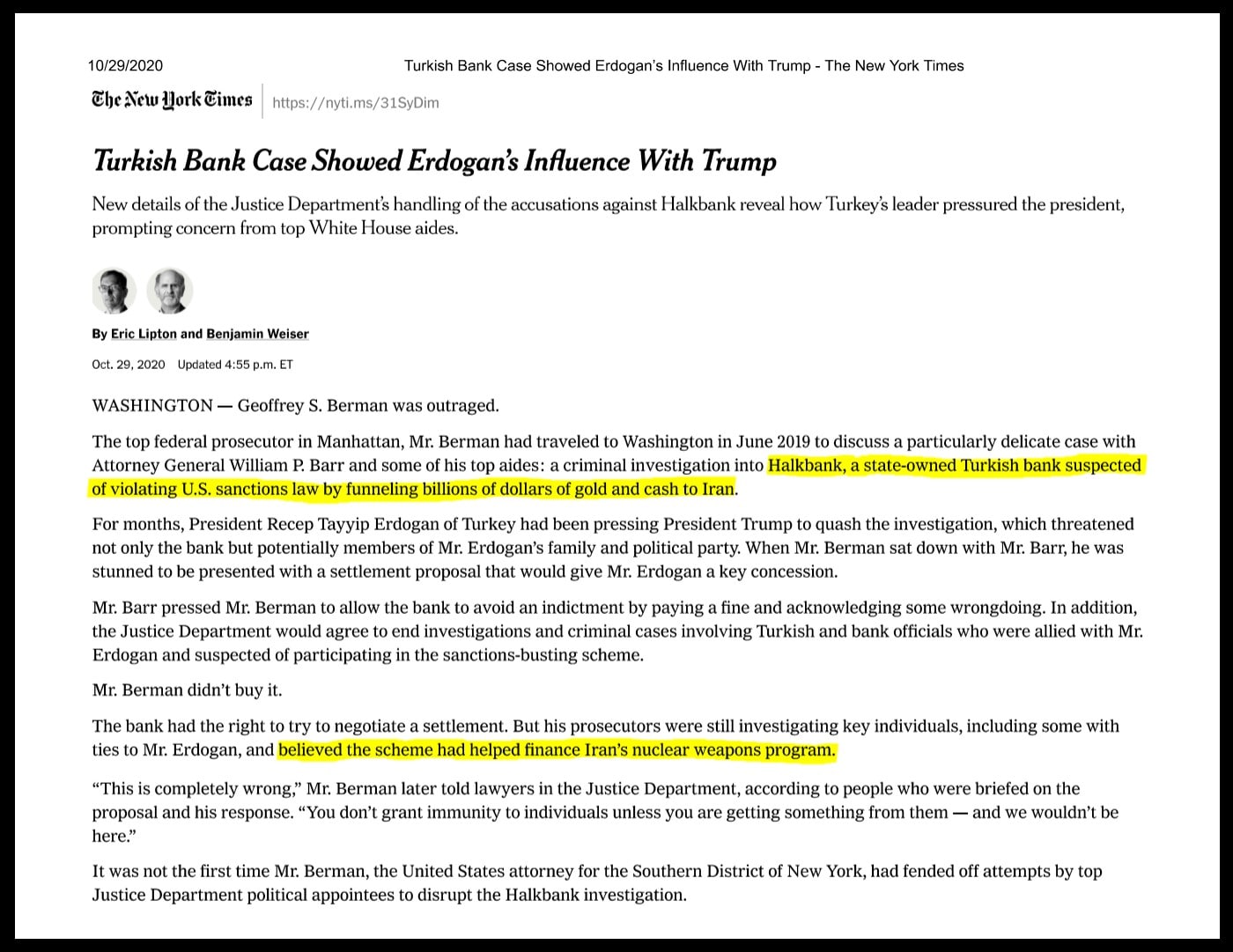 Turkey is a major geopolitical adversary of Iran currently fighting 3 proxy wars against them in Syria, Yemen, & Azerbaijan. So why would Turkey be funneling billions of dollars to help finance Iran's nuclear weapons program as the NY Times (and unfortunately the SDNY) claim? Iran would be just as likely to threaten or use those weapons on Turkey as they would on Israel. It's an absolutely moronic premise.
And what about the $1.7 billion (at least) in cash the Obama Administration gave to Iran as part of the Iran Nuclear Deal (JCPOA) which put Tehran on a glide path to a legalized nuclear weapons program? That has nothing to do with it? Really?!? So can we all conclude that this is just a smear piece that's designed to be part of a larger disinformation operation, and not a serious news story?
Just as in 2016, the NY Times article on Turkey was designed to drop on the same day as similar articles in other publications. So the Vox Media-owned New York Magazine published an article on October 29th, referencing the NY Times article. It's an obvious sign of media coordination.
The New York Magazine article concludes (without a hint of irony) by saying,
Yes, having a lucrative business deal in a foreign country, especially an oligarchy where leaders intermingle official favors with foreign policy, is a deep conflict of interest. It's fundamentally disqualifying, in fact.

If Trump wins reelection, the House should launch impeachment hearings.

If you do a quick Twitter search on the the URL of the NY Magazine article and peruse the Blue Checkmark Brigade pushing the article out into the Twittersphere, you'll see a lot of familiar names. We are putting the Trump-Russia Collusion Band back together!
Of course we've got top writers for Slate jumping in to help push the story.
Slate by the way ran their own hit piece on Turkey the day before, helping to lay the groundwork. They're a Trump Collusion conspiracy theory O.G. publication and they're not about to sit this new hoax out!
Vox reporter and committed Russia Collusion hoaxster Aaron Rupar got in on the game with an attempted "quid pro quo" projection. Because when you've been pushing a conspiracy theory this stupid for so long, you're kind of pot-committed.
Of course we can't overlook the author of the NY Magazine article himself, Jonathan Chait.
Chait was vital in planting the seeds for the original Trump-Russia Collusion hoax. He wrote one of the earliest Fusion GPS planted stories in Apr 2016 stating Putin somehow had compromised Trump.
Chait was also the "useful idiot" for Fusion GPS who planted the "Trump changed the RNC platform on Ukraine to help Putin" narrative. These stories were cited in other stories later on and then used in FBI Director James Comey's "broader mosaic" of evidence used to obtain FISA warrants on the Trump Campaign.
And breaking late, our old buddy David Corn from Mother Jones was able to take time out from his continued efforts to frame Carter Page, 4 years after the fact, to join the fray.
As elaborate as the newest Plot Against The President appears to be, it doesn't seem to be gaining much traction in the general consciousness, but neither did the 2016 Trump-Russia Collusion hoax until after Trump's stunting upset victory over Hillary Clinton when her ill-fated October Surprise got repackaged into a 4-year long coup attempt. Perhaps that's because the story is so blatantly ridiculous, or these media outlets have given up any semblance of credibility, or maybe the tragic earthquake to hit Turkey and Greece last Friday caused the media jackals to temporarily grow a heart and back off for a bit. But we doubt it will be for long.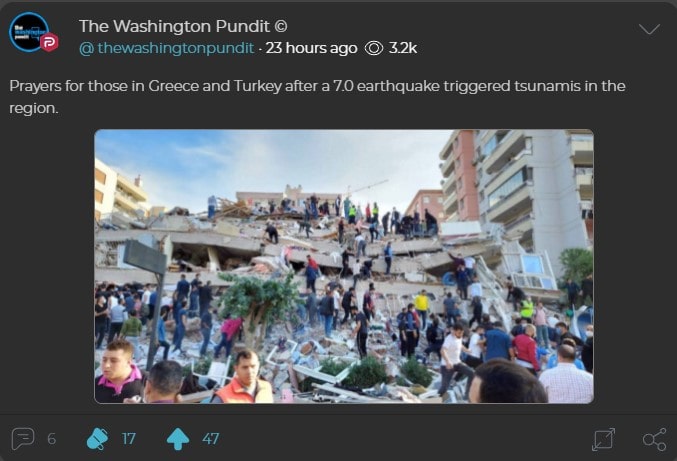 Please stay tuned for Part 2 of this exclusive TWP exposé series as we continue to report on the origins and purpose of the latest Trump Collusion Hoax.
Please follow me on Parler @BoumtjeBoumtje