On Friday, former Parler CEO John Matze set off a small furor when he announced that he had been temporarily banned from his Parler account.

I can confirm I was banned this morning from Parler. They seem to have reversed the decision. I have not received an explanation yet. I am only confirming it happened. I first released the details on my telegram channel.
https://api.parler.com/l/QP6Vp

Full text of John Matze's since deleted announcement
Included in the announcement was a link to an article about his banning by the Left-wing conspiracy hoax rag BuzzFeed News, which immediately started sending up red flags. As TWP has reported in the past, the Soros-linked BuzzFeed is often used by the Left to carryout coordinated smear campaigns such as the one they ran on this very publication. (The Washington Pundit).
The BuzzFeed article seems to imply Matze was likely suspended by Parler in retaliation for this parley related to Parler's "fair mark value".

The claim, if true, would seem to undercut Parler's profession to be a "Free Speech platform" as the title of the BuzzFeed article itself goes out of its way to highlight: 'Parler, A Social Media Platform That Stands For Free Speech, Temporarily Blocked Its Founder'.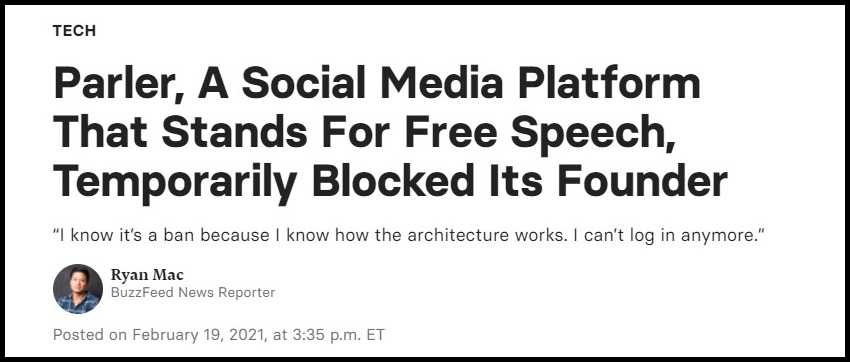 However, this was not the only posts Matze was making around the time his account was banned. Although they are not visible on Matze's profile page, the comments he was making (i.e. responses to other user's parleys) during this timeframe seem highly suspect. Matze sent out a series of rapid-fire comments to different users littered with words such as "attack", "kill", "crazy", and "animals".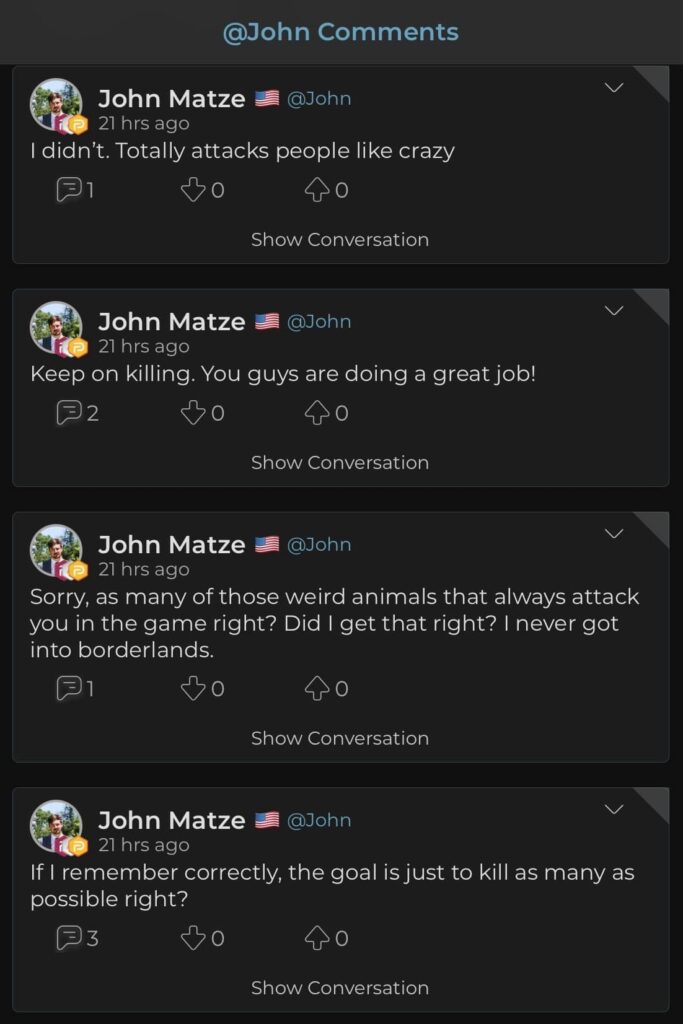 Although Matze was not using them in this context, these are keywords that by themselves or in combination might be associated with 'incitement of violence', and their usage in his comments seems almost forced.
Parler was initially de-platformed in January with a coordinated attack by Big Tech and corporate media (which of course BuzzFeed was a part of) under the pretext the platform was the primary means used to plan, coordinate, and incite the January 6th riot at the U.S. Capitol Building, a claim that is demonstrably false.
As Parler Chief Policy Officer Amy Peikoff revealed in an interview on John Solomon Reports soon after Parler's deplatforming, the company has been in the process of developing proprietary Artificial Intelligence (AI) software to help with Terms of Service enforcement on the platform.
Since their soft relaunch last Monday, Parler's IT engineers have been working diligently to stabilize the platform and work out the bugs. Part of this process would include deploying, testing, and making adjustments to integrate the new AI into the software. Matze's successor, interim CEO Mark Meckler, has been giving media interviews throughout the week about the technology challenges Parler has continued to work through.
John Matze has also been giving interviews. In several of them, Matze highlights how integral he has been to programming Parler's software since the very beginning of the company. He also disclosed his close involvement in the design and testing of the new AI being implemented up until the time of his removal as CEO.
[T]hey'll probably still be using the features that I designed and sent out to the team, and I hope that they do. The one thing that worries me is that they won't have kinda me making sure and testing and working with the engineers to make sure that the new Terms of Service enforcement stuff they're doing. They won't have me there to kinda make sure it's coming out perfect and it might come out being overaggressive or not aggressive enough. But otherwise, they're going to have to move forward.

From Feb 2020 John Matze interview with Maria Bartiromo
It appears Matze may have exploited a known defect of the software design to deliberately get himself banned by tricking the AI using keywords he knew would get misinterpreted. Even more troubling, he may have done so in coordination with BuzzFeed to set up the narrative for a smear piece. The time between the "fair market value" parley and when Parler was able to reinstate his account was two to three hours at most.
BuzzFeed was able to publish the story in time to be included in Matze's own announcement of the ban. That is warp speed turnaround on an article and suggests it was already in the works in order to get out first and shape the narrative of the story.
TWP already suspected there was an existing, coordinated, and well-funded disinformation campaign underway to spread myths about Parler secretly banning content for political reasons and being just as bad as Twitter or Facebook on censorship. Now that BuzzFeed is directly involved, we have little doubt. The campaign seems to be targeting the same "QAnon" forums and figures that were used effectively during the 2020 election to misdirect President Trump's grassroots support as first reported by TWP and more recently by Gateway Pundit.

If Matze's action were deliberate, we can only guess what his motivations could have been. To build a company from scratch, see your dream turn into reality and grow beyond even your own wildest imagination, and then be told to leave against your will must be devastating. Maybe it was just a playful stunt to create headaches to those at the company Matze feels wronged him.
The BuzzFeed connection however suggests there might be more to it. There's clearly a 'cabal' of powerful political and corporate interests who conspired to take Parler down and keep it down. Matze's possible betrayal also calls into question actions of other former Parler proponents like Milo Yiannopoulous who seemingly set out on a deliberate campaign last week to get himself banned from Parler. Milo's ban has led to a similar series of news stories and headlines across even conservative media which will seemingly undercut Parler's ability to remain viable by turning off those most likely to use a Free Speech platform. This seems like a possible grift and would be very reminiscent of a classic disinformation campaign.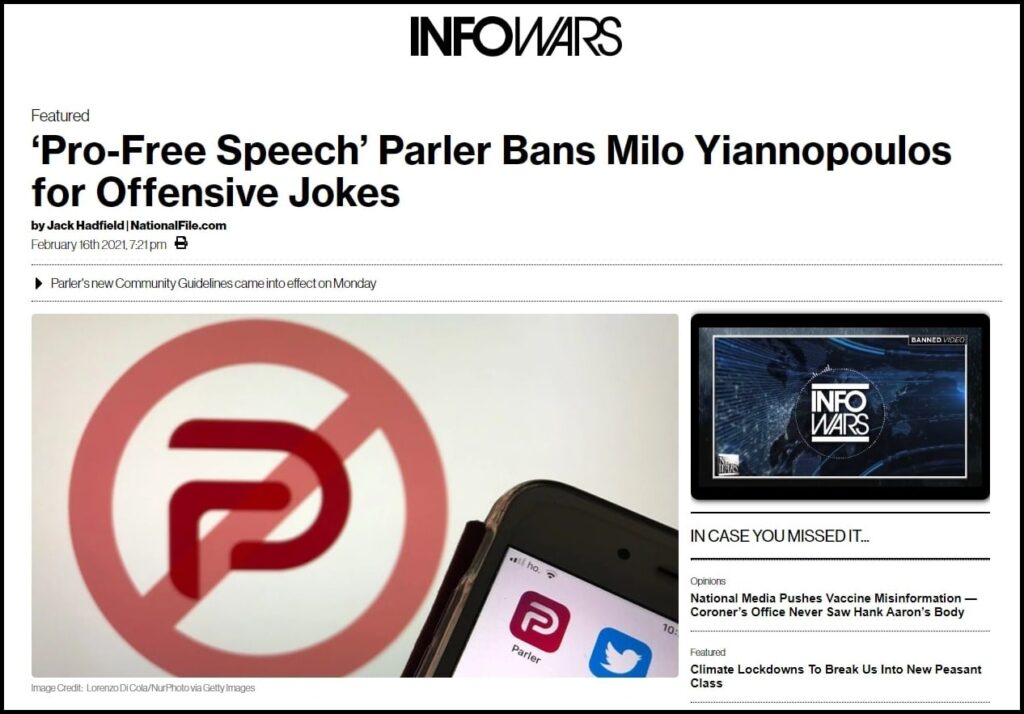 So it is possible John Matze has sold out and thrown in with this 'cabal' to wipe Parler from the internet … and Judas may have gotten his 30 pieces of silver.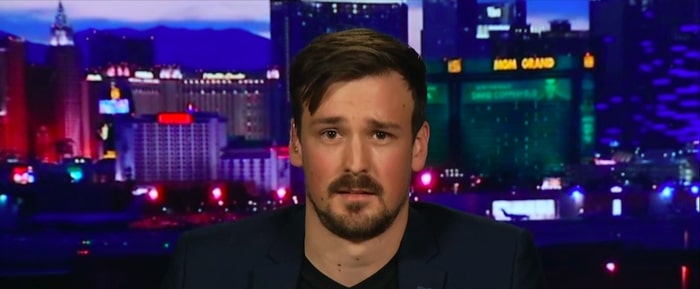 Follow me on Parler @BoumtjeBoumtje