As is common at years end, Time magazine chooses a "Person of the Year" to honor on the cover of its well-known magazine. In the same tradition, Kitson, a lifestyle boutique in Los Angeles, California created a visual ad campaign featuring its own nominees for "Person of the Year". A video recently surfaced on Twitter showing the very telling store display, which makes an insightful commentary on some of the most influential events of 2020.
Kitson is no ordinary boutique. The store offers high-end apparel and accessories. According to its website, the store caters to some of Hollywood's best know personalities including, Angelina Jolie, Janet Jackson, and Paris Hilton.
Kitson LA offers must-have styles for women, men, and kids from upcoming and coming designers. For those shopaholics, our online boutique runs 24/7 for your convenience at www.kitsonlosangeles.com. Renowned for its impressive celebrity clientele such as Paris Hilton, Kate Beckinsale, Angelina Jolie, Janet Jackson. Kitson's main goal is to provide ALL customers with a chic fashion sense and a true LA experience.

Excerpt from Kitsons About Us Page
Among the most influential "People of the Year" featured in the Kitson ad, were LA's Mayor, Eric Garcetti. Garcetti has been under fire for his handling of everything from the homeless crisis in the city to his extreme lock-downs of the city over coronavirus fears. The image of Mayor Garcetti shows him holding a wad of cash and telling people he will cut off their power if they break social distancing rules on gatherings, and offering retail giants all the power they want to do business. It is estimated that a staggering 59% of small businesses in LA have closed due to forced Covid-19 shut downs.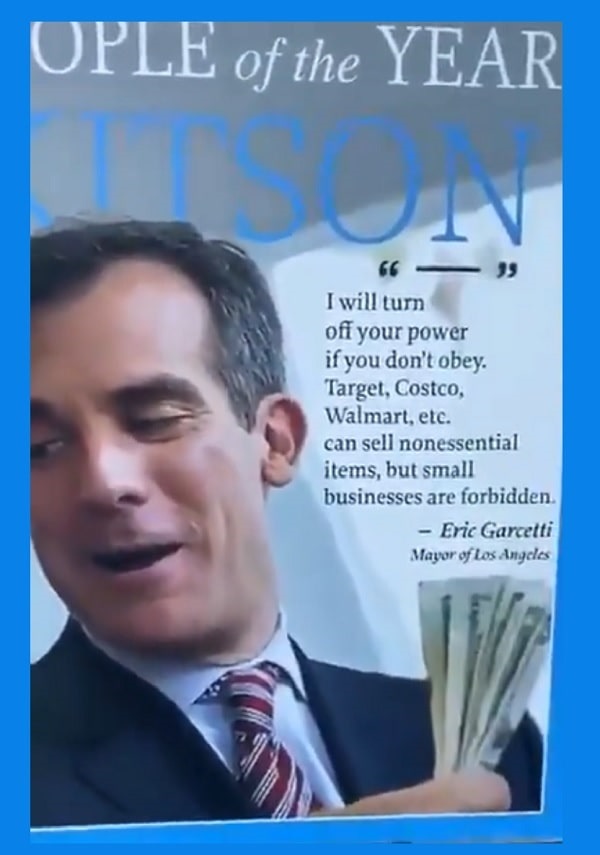 Next up on the list of Kitsons People of the Year was none other than Hunter Biden. Biden, the son of Vice President Joe Biden, had his world turned upside down with the discovery of a laptop containing elicit photos and texts and emails of his nefarious business dealings all over the world. . The Kitson display depicts one of those images of a disheveled Hunter, cigarette hanging between his lips, looking directly into the camera after a long night of crack and prostitutes. The image jokes,
"_______" where is my laptop my China deal is on it. Don't forget 10% for the big buy!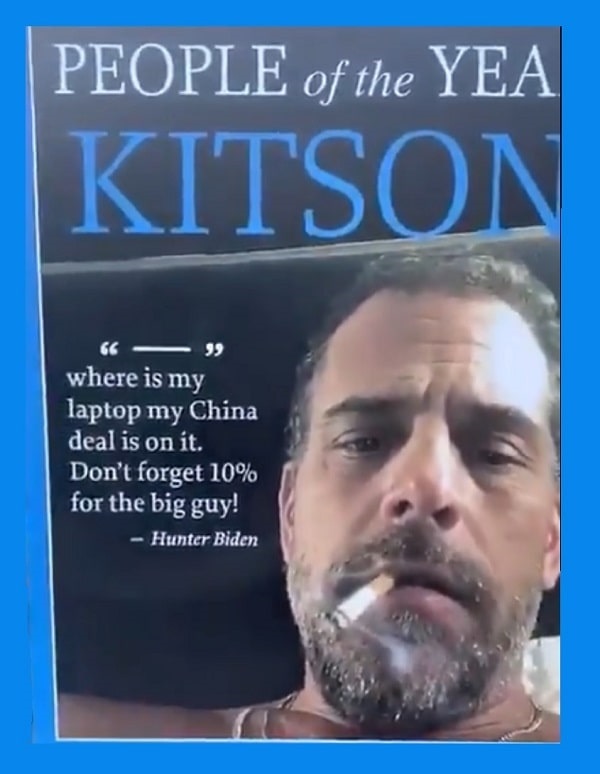 The third in the POTY series is an homage to a stereotype that became infamous in 2020, the "Karen". The term is now widely used to describe women who complain…about anything and everything. It's the ultimate depiction of American privilege and probably one of the reasons why 'they hate us'.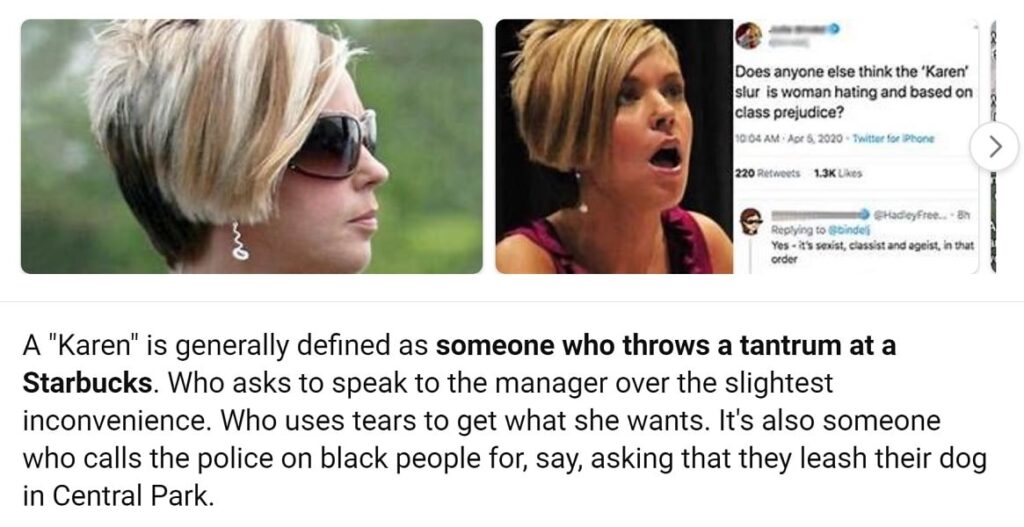 Not surprisingly, Kitson's "Karen" has a very similar look. She is an upper middle class suburban white woman, drinking Starbucks, talking on the latest iPhone, wearing designer sunglasses and complaining to management. She names her pronoun and supports Antifa, BLM, late-term abortion and transitioning children.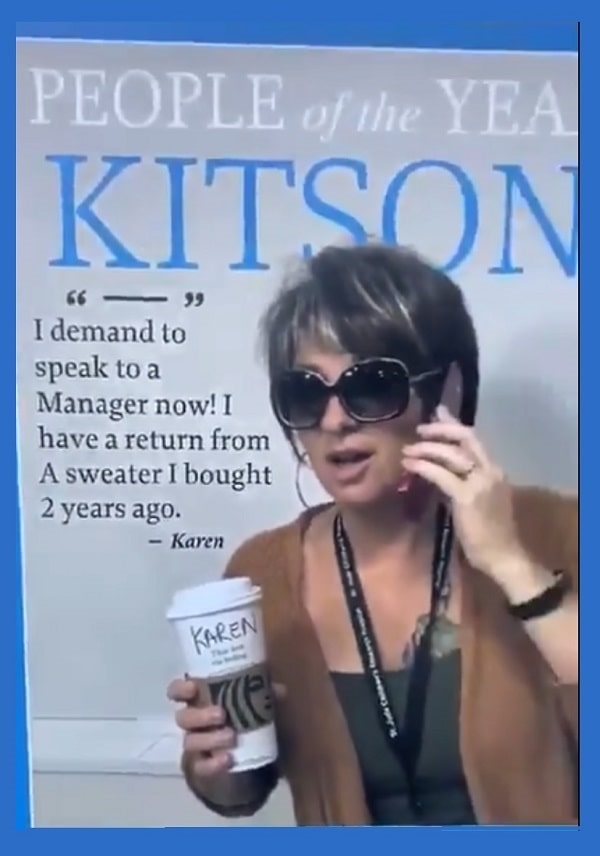 The nominees for People of the Year would not be complete without a man we've all come to know and well….not love…but mistrust. That is Dr. Anthony Fauci, the head of NIEHS and lead member of President Trump's original Coronavirus Task Force. Fauci has waffled on everything related to coronavirus, most famously whether to wear a mask. The Kitson ad zeros in on that very issue where Fauci first said masks are not needed in March, then did a 180 about their effectiveness in May.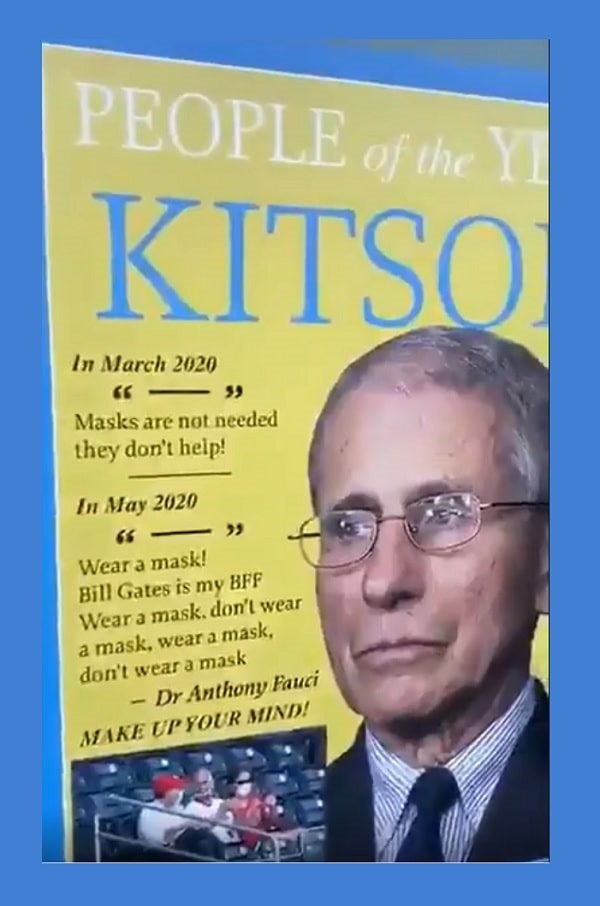 Fauci is mistrusted. Has too much power and too many ties to global elites like Bill Gates, George Soros, and Hillary Clinton (whom he has a slight crush on). Fauci fits the bill perfectly for Kitson's list.
Follow me on Twitter and Parler @RealDoctorE
Follow @TWPundit on Twitter and @Thewashingtonpundit on Parler